Cleo Parker Robinson Dance Visit
The Episcopal and Jacksonville Partners in Arts Initiative has worked hard to bring artists from our community into our art programs. And just last week, Episcopal's Fine Arts Department, along with a partnership with Florida State College of Jacksonville and Jacksonville University, brought in a spectacular guest artist. 
The critically acclaimed Cleo Parker Robinson Dance Ensemble graced the Deming Theatre's stage twice. Earlier in the week, the company performed two of their solo pieces, Angelitos Negros and The Mourner's Bench. Afterward, students from FSCJ and Jacksonville University's Dance Departments performed Check Cashing Day, a piece choreographed by Ms. Cleo Parker Robinson herself. Students from Episcopal's Honors Dance 4 class had a private session with Ms. Parker Robison and the Company's Rehearsal Director, Chloe Abel, and learned a section of Check Cashing Day.
Later in the week, on February 19, the Cleo Parker Robinson Dance Ensemble performed The MOVE/ment during Black History Month Chapel. "My challenge, as the choreographer," commented Ms. Parker Robinson, "was to awaken my personal memories of the Civil Rights Movement, while finding new ways for the dancers to develop their own voices, in recognition of social change that is yet to come."Afterward, Episcopal's Dance Ensemble and Theatre Students were given the opportunity to attend the Spring Dance Concert, presented by the combined efforts of FSCJ danceWORKS, JU Dance Division and ESJ Fine Arts Department.
Image courtesy of Jewel Hardwick '20.
About the Writer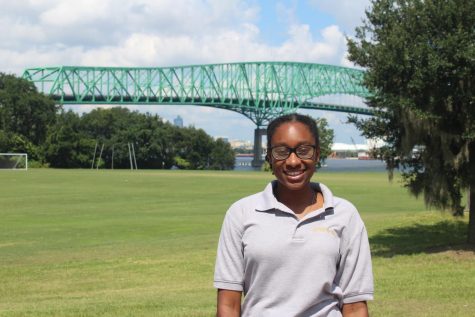 Jewel Hardwick '20, Staff Writer
Jewel Hardwick is a senior and a first-year staffer for The Talon Times. She is known campus-wide as an enthusiastic girl, with a rather strange affinity...