Vogue's Kamala Harris Cover Sparks Controversy
When Kamala Harris was elected Vice President back in November, she quickly became a beacon of expression for Black women everywhere. So when a leaked shot of Harris's Vogue cover began to circulate on social media many were disappointed by the apparent whitewashing of her skin tone and the overly-casual wardrobe choice. 
Vogue's February issue features two images of Harris. In the photo used as the actual magazine cover. Harris is seen in a dark pantsuit, wearing her signature Converse sneakers caught in a mid-laugh, clasping her hands together at her waist. She stands in front of a green and pink backdrop, meant to mirror the colors of her college sorority, Alpha Kappa Alpha. In the alternate digital cover, Harris is seen in a powder-blue suit against a lighter gold backdrop. Her arms are folded as she smiles. It's a much better photograph, which is why her team reportedly preferred the image as the cover. 
According to a source close to CBS News, "Aides to Harris and Vogue had the understanding that the blue suit/gold background would be the cover photo. Without telling Harris' team, Vogue changed it to the pink/green photo which the Vice President-elect's team did not agree to," the source said.
While the choice of the cover photo has been branded as lazy and overly-casual by many, Vogue released a statement defending its artistic choices. The magazine said it went with the more informal image of Harris for the cover because it captured her "authentic, approachable nature, which we feel is one of the hallmarks of the Biden-Harris administration." While "approachability" was an important part of their campaign, the key to their victory was their powerful message to unite the country after years of growing division. Maybe we didn't need to see a casual Harris wearing Converses, but a commanding Harris setting a respectable tone as vice president of the United States. 
Considering that there was a recent attack on the Capitol by Trump insurrectionists, VP-elect Kamala Harris has bigger matters to worry about than a magazine cover. But Vogue needs to realize that Kamala Harris's election is personal to so many, which is why they are so invested in how she's portrayed as a leader in our country. 
Link to Vogue Photos below:
https://twitter.com/voguemagazine/status/1348284503081574403?s=20
Images courtesy of Wikimedia Commons.
About the Writer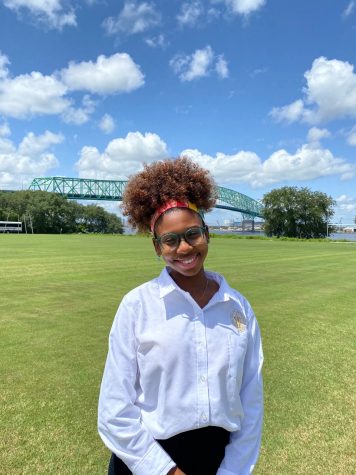 Chey Ann Boyd '21, Staff Writer
Chey Ann Boyd is a senior and first-year staffer for The Talon Times. She has always loved expressing her creativity through photography, but this student...