Faculty Spotlight: Ms. Shelly De Mendoza
I decided to interview one of the most down-to-earth, and kindest teachers I know, Ms. Shelly De Mendoza. Ms. De Mendoza is an English teacher at Episcopal School of Jacksonville and is involved with different clubs on campus as well. 
How long have you been teaching?
"15 years"
Where have you taught previously?
"North Carolina, Israel and Myanmar. (If anyone reading this has considered teaching as a profession, go abroad! It's awesome!)"
What made you choose to come to Episcopal?
"I wanted to come back to the US to be closer to my family, and I wanted to teach at a private school. International schools spoiled me – the kids were more studious and curious than the ones I had previously encountered in NC public schools. So I put my resume online and Bert Harrell (the previous head of English department) called me! He was so sweet and supportive, and I wanted to work for him!"
How has the pandemic affected your teaching this year/do you enjoy being back on campus?
"I am so happy to be back on campus. Teaching from Zoom last year was really difficult – it was hard to get students to Harkness. I remember once, Jack Pruden was running on a treadmill during class. It's just not the same! Too many distractions!"
What has been your favorite book to teach to students?
"That's a hard question… For eighth grade, I LOVE teaching To Kill a Mockingbird. For ninth, I love Long Way Gone and Lord of the Flies. When I taught tenth, I liked doing poetry. That Seagull Poetry book is a real page-turner. (I'm not being sarcastic… I really love those poems.) But my favorite thing is to discuss the books I love during my extra credit book clubs: Born a Crime, Just Mercy, and The Glass Castle."
What's your favorite on-campus event to attend?
"Prom was so fun this year. I loved seeing the dresses – it's sort of like a high school teacher's version of the red carpet. But that's also a hard question because I also love the school musicals and the art show as well. Those were amazing this year, and I had a lot of senior advisees participating. Oh, and of course volleyball and basketball games. ALSO SHOUT OUT TO BSU MEETINGS. They are really fun and full of laughter."
What's your favorite color? (This is my favorite question.)
"GREEN, although I never wear it. I usually stick to black and white clothes, but I really love nature colors."
Image courtesy of Ms. Shelly De Mendoza.
About the Writer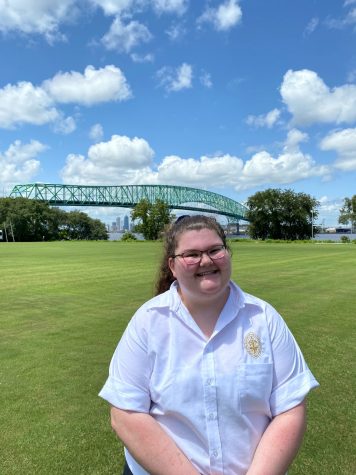 Ashlin Roberts '22, Staff Writer
Ashlin Roberts is a junior and first-year staffer for The Talon Times. She is heavily involved with Fine Arts at Episcopal, being fully committed to Honors...