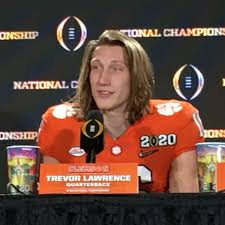 This year in Jacksonville, there is a new quarterback in town by the name of Trevor Lawrence. Lawrence is a generational talent and maybe the greatest first-pick ever. The expectations for Lawrence are through the roof, so much so that people expect us to win around eight games this year. Considering we went 1-15 last year, this seems like a bit of a stretch, but with all the new talent we have brought on the defense and the new weapons on offense it just might be possible.
Although everyone assumed that Lawrence would be the starter this year, Coach Urban Meyer decided to wait until this week to announce the starting quarterback. The battle was between Gardner Minshew II and Trevor Lawrence, of course. Obviously, Lawrence is QB 1, but no one anticipated the Jaguars trading Minshew for a sixth round pick. 
Many Jaguars fans are broken, due to the fact that Minshew brought us so much excitement when we needed it. As a Jaguar fan, I am happy we did this. We are putting 100% of our trust in our future-franchise quarterback with Lawrence, and it will give him even more confidence. We saw this in his final preseason game versus the Dallas Cowboys.
A couple days after Gardner was traded, Lawrence helped lead the jags to victory 34-14 while throwing 11/12 for 139 yards, 2 touchdowns and a perfect passer rating of 154.5. This is the quarterback of the future; he did this with a subpar offensive line and without two of his best wide receivers, D.J. Chark and Josh Jones.
I am confident in saying that Lawrence is a one-of-a-kind player that may go down as one of the greatest quarterbacks in college football history. Only time will tell on his true talent in the NFL, but if he plays even close to how he did in college, the Jaguars could very well obtain a wildcard spot in the playoffs.
Image courtesy of Bobak Ha'Eri.