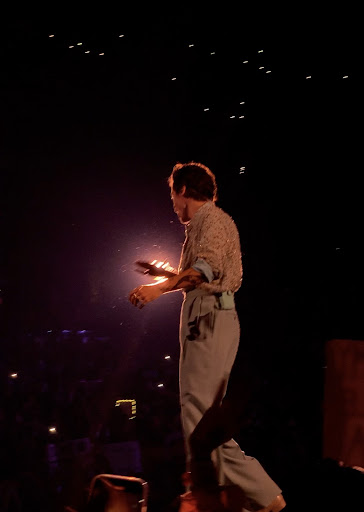 Harry Styles is on his Love on Tour! Ashlin Roberts '22 (AR) and Kaitlyn Sweder '22 (KS) had the opportunity to go see Styles on tour when he visited Orlando. Here they talk about their experiences during and after the concert, on their way back home from the unforgettable night.
AR: Hey guys! This is going to be a conversation about our experiences about the Harry Styles Love on tour concert.
KS: Yep, it was last night and it is now the day after… So let's go ahead and start with the opening act? 
AR and KS: Jenny Lewis.
KS: She's 44. I was telling my mom about that.
AR: She's 44. She's got a dog.
KS: Yeah, she has a dog and she wrote about her dog.
AR and KS: Puppy in a truck (one of Jenny Lewis's songs).
KS: She even had someone come out in a dog suit at the very end. She's kinda weird. I liked her vibe, but at the same time it was kinda confusing to me. Because again, she is older, but I don't know. I didn't hate her music, but I didn't really enjoy it either. It's something that I would listen to once and be okay with listening to it if it was on the radio, but I wouldn't actively look for it and seek it out and listen to it. 
AR: Yeah some of the songs I actually liked, but then she started getting into more of her country stuff, and it was just odd. Again it wasn't bad, it was just confusing. 
KS: A country indie woman. Good for her. Now let's talk about the main act. What do you have to say about the main act? 
AR: I was freaking out the whole time. I was so happy. I was smiling and screaming.
KS: Oh yeah I was screaming my head off the whole time. It still doesn't feel real, even though it already happened. We were at the barricade, and I can't believe that happened. But I did not enjoy the lady in front of us, [A random lady was pushing her backside into Kaitlyn.] and I did not have a great time trying to crane my neck to see Harry because of some guy's fluffy hair, but it's all good.
AR: It was a whole experience… What was your favorite song that Harry played?
KS: I got the best pictures from when he was singing "Lights Up", but "Kiwi" was surreal, and the lights were just flashing red, black and white and everyone was jumping and screaming. It just kept on going. 
AR: His band is amazing. I loved them. 
KS: His band is incredible! The girl on the drums was insane. All of his band mates did such a good job. 
AR: Yeah, the drummer is my absolute favorite. She's so good. All of them have such great energy.
KS: I also liked how during "Falling", he had the guys he played with and then during "Cherry", he had the girls. Anyways, what was your favorite song he played? 
AR: I have three favorites. I really liked "Kiwi", "Only Angel", and "Lights Up" because it's my favorite song of his.
KS: "Treat People with Kindness" was also so good. I used to not like that song, but it gave me such good vibes when he performed it.
AR: 15 minutes of dancing. (Harry stated that there would be 15 minutes of dancing while he played through a few upbeat songs.)
KS: His visuals were also really cool, too. I liked how they were mirrored and there were a lot of psychedelic visuals he did with "Sunflower" and a few others. It was all honestly so incredible, and then we stayed up until 3 AM. 
AR: We did get merch though.That was a fun surprise. Overall, it was the best concert I've ever been to. The pit was a top tear experience. 
KS: I agree, it was an amazing experience. 
KS and AR: Bye!
KS: Say bye, Mom.
BS: (Barb Sweder) Bye!
Image courtesy of Ashlin Roberts '22.