@queeratesj Interview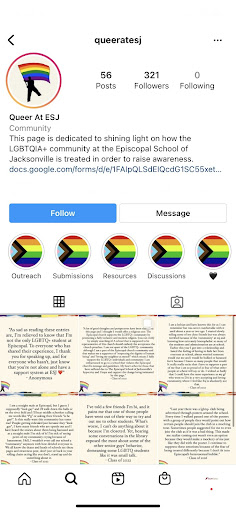 Please keep in mind our content is created by and for our students and does not necessarily reflect the views of the institution. Additionally, this article contains content that may not be suitable for younger members of the community.
This week, The Talon Times decided to interview the @queeratesj Instagram page to understand why this page was created and to continue to spread awareness about the LQBTQIA+ community at ESJ. In order to protect the identity of the person(s) running the account and ensure their anonymity, we conducted the interview and communicated through Instagram's direct messaging feature. 
Why did you originally create this account?
"I created this account to spread awareness on how the gay community at ESJ [is] treated, provoked by the Prom piece being taken out [of Overflow, the 2022 Episcopal Dance Concert]."
Who is your target audience?
"Our target audience is anyone who is interested. We are here to comfort members of the LGBTQIA community who feel alone, but we are also here to educate homophobic people at this school. So we want this page to reach as many people as possible, in order to reach both ends of the spectrum."
Describe the original response to the creation of this account? Has it changed over the past two months?
"The original response was extremely overwhelming for me to handle. On one end the support was comforting and exciting, but the hateful and homophobic comments took over the account for weeks after its creation. I remember keeping my ringer on, so if someone commented something at night I could wake up and be the first to see it and assess the situation. There were multiple accounts created by the same group of people sharing similar names, followers, etc. who were obsessed with the account in all the wrong ways. If I hadn't posted in a few days they would go back on old posts and comment horrible, graphic things and then either keep them up for others to build off of, or delete them immediately. However, I have screenshots of everything. As the page grew and the bigots got bored, more and more of what I saw was positive. Our DMs have become a safe space, our anonymous form is used to share traumatic experiences with others going through the same thing, and our comments are typically kind. The transformation of the page I hope has a lot to do with the fact that we haven't stopped. We want homophobic students to see the page, we want them to accept us and stop. Hopefully they can realize as more submissions continue to be posted they may think "hey maybe this is actually a big deal". We want the uneducated to be educated, and if a few sleepless nights have to be sacrificed along the way, then so be it."
What do you think is the best method for creating inclusion at ESJ?
"Education. Being open to hearing your fellow ESJ members' experiences is the key to acceptance. I think for so long the problem was easy to dismiss because no one thought that it was in our own school. But, when submissions started being posted, people realized that it was their own students and their own classmates who had to deal with the same problems that they saw in TV shows, movies, books, etc. Homophobia is real; it's not something just in the media. It's not fake news, and I think the more we share our experiences, the more that people listen, the more accepting our community can be."
Why do you think this page is a crucial part of our community in order to create change?
"The best way we could think of to raise awareness is through a safe, anonymous forum on  our page. And through our page hopefully we can spread awareness."
What change(s) does ESJ need to make in order for our school to feel more inclusive of the LGBTQIA+ community? 
"Queer history is something that we NEED at our school. There also needs to be a stricter, no-tolerance policy of homophobia in the students' circles. Because the school has disciplinary rules in place to handle situations that are brought to their attention, unfortunately many of these situations AREN'T brought to the administration's attention for fear of being outed. In order to combat this the students at ESJ need to be more understanding and accepting so that homophobia between students can't thrive."
For more information and student testimonials, please check out the @queeratesj Instagram page.
Image courtesy of @queeratesj Instagram page.