2022 ESJ Theatre States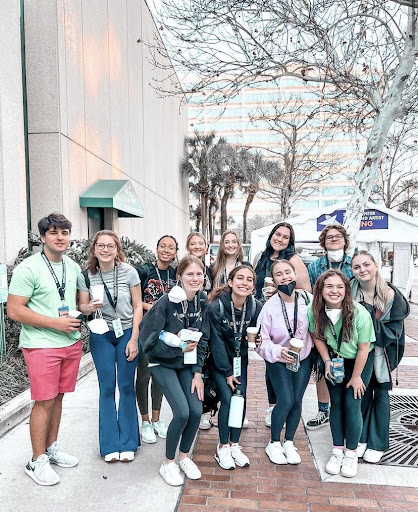 On March 16, 2022 the ESJ Thespians headed off to Tampa, Florida for the annual Florida State Thespian Festival. When we first arrived, we grabbed some groceries and got ready to go to the opening ceremony. The festival took place in the Tampa Convention Center. The opening ceremony was super fun. All the schools gathered together in the convention center to see all the fun activities that would be in store for the next couple of days. 
We woke up super early the next morning (March 17) to grab breakfast and to head to our workshops. My friends and some other friends went to the Newsies dance class first. We had the privilege of working with the incredibly talented Jack Sippel. He has been in a variety of different shows including The Prom, Newsies and Memphis. His resume was insanely impressive and we were so excited to take his class. He was super encouraging and made the class very fun. That afternoon we went and grabbed a nice lunch on the water. We had oysters and hung out while we were waiting for The 25th Annual Putnam County Spelling Bee. The whole group met up and we went to the show. This show was my favorite out of all the ones we saw. The show was performed by an all high school cast, but I genuinely felt like I was watching a professional broadway show. It was absolutely incredible. 
The rest of the trip was very fun. We all hung out and bounded while doing workshops and seeing shows. Some highlights were going to the beautiful Tampa Theater and seeing an improv show, as well as celebrating Anne Case's birthday, while on the trip. Overall, the trip was so much fun and I had a great time hanging out with all of my best friends. Not only was the trip fun, we also brought back some awesome achievements. Everyone that performed at the state festival received a superior, which is amazing. Also, Anne Case received top honor for her costume construction piece. She made the Peggy costume from Hamilton. The judges were absolutely floored by how impressive her work was. Episcopal really showed out at this festival.
Image courtesy of @esjdance.