RH Review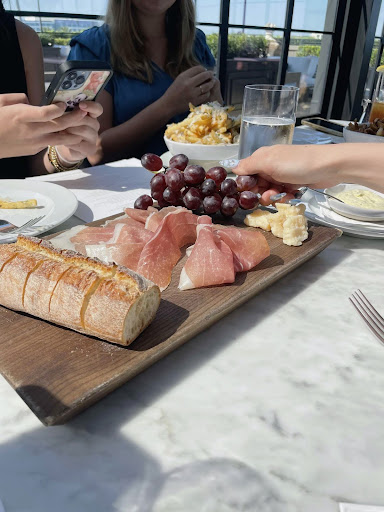 Restoration Hardware is a very popular luxury furniture company with many locations around the United States and a recent installation in the UK, but did you know this furniture store has a restaurant? 
I recently had the opportunity to go to Restoration Hardware's semi-new restaurant, called RH in the Jacksonville Town Center. This rooftop restaurant resides on the third floor of this famously known furniture store, and it has an amazing ambiance to it. The entire rooftop is enclosed with glass that provides a "skylit garden escape," with multiple fountains, real plants and trees and beautiful chandeliers all within it. The entire restaurant space is breathtaking beyond words.
At a first glance, this restaurant seems to check all the boxes within the realms of appearance, but what about the food? 
As someone who doesn't go out to eat often, let alone to fancy restaurants, this was a major treat to experience. My group of friends and I decided to go eat for their brunch service, which they provide along with lunch and dinner.
First impressions were made when the appetizers came out. We ordered the crispy artichokes, truffle fries and the prosciutto and delice board. Words cannot describe how good all three of these items were, and the presentation for everything was amazing too.
Next up were our main dishes. I, along with a few others, decided to order the RH scramble, which included toast, avocado and soft scrambled eggs. As someone who loves avocado toast, this dish was amazing, and I would get it again the next time I go back.
A few other options for brunch and lunch that also looked amazing were the truffle grilled cheese, smoked salmon, and the arugula salad. As mentioned previously, RH also offers dinner, too. 
My overall experience at RH in the Jacksonville Town Center was a positive one! The ambience and food complement each other in a way I'm unable to describe. In all honesty, I'd go back just to take pictures in/of the restaurant itself. Even though this restaurant is a higher-end buy, I think going at least one is worth the money spent there. You can also look at the beautiful furniture store on your way out, too!
Image courtesy of Ashlin Roberts '22.