Auburn Versus Mercer Football Game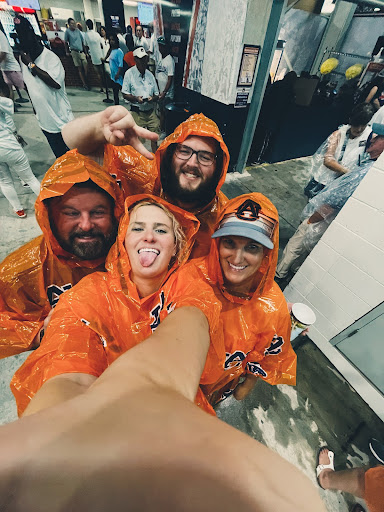 Last Friday, I drove to Auburn to visit my brother who is a senior attending the school. Auburn's football team has gotten much better throughout the years. Mercer is a small private school in Macon, Georgia and does not have the best football program, but they managed to get two touchdowns and a field goal. 
The Auburn Tigers started the first quarter off with the two touchdowns previously mentioned. Jarquez Hunter made a 19-yard run and scored the first touchdown. John Samuel Shenker caught a two-yard pass from T.J. Finley and made the last touchdown of the first quarter. The Mercer Bears did not score this quarter, but they still played their hardest.
The crowd went crazy during this game and the stadium was very loud and hype. My family and I were sitting behind the student section and it was definitely a wild game. Every student was supporting the Tigers and wearing white for the white out.
In the second quarter, the Tigers showed their skills on the field and made two more touchdowns. Hunter made another touchdown and showed even more of his skills in this game. Coming in hot, Devron Harper caught a five-yard pass from Fred Payton and scored a touchdown. 
Third quarter was not a good one for the Bears, but the Tigers made two more touchdowns, and the team went wild. Then a thunderstorm came and most of the students and fans left.​ This may have thrown the players off because of the big storm. Mercer scored a field goal and touchdown after this delay in the fourth quarter.
In the end, the Tigers came out on top 42-16. They played very well, and the school showed up for the team and showed out with school spirit. I enjoyed this game very much and loved how hype the crowd was.
Image courtesy of Emily Thompson '23.