Blake Bottles: Retirement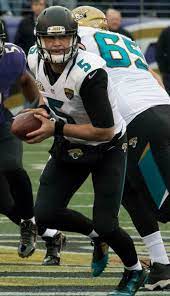 Blake Bortles, the quarterback who led the Jacksonville Jaguars to a division title, says he has retired. Bortles says on the podcast "Pardon My Take," "I didn't tell anybody. I retired." 
Bortles is second in Jaguars history in passing yards (17,646) and passing touchdowns (103), in 72 starts. Bortles' performance in the playoffs after playing well in the regular season prompted the Jaguars to make the decision to sign him to a three year extension, worth $54 million, with $26.5 million guaranteed. 
Bortles played a few games with the Rams in 2019. He also spent time with the Broncos, New Orleans Saints and Green Bay Packers, after leaving the Jaguars. After eight seasons, Bortles called his football career to an end. He chose to retire after a great and memorable career.
Image courtesy of Wikimedia Commons.