Dreamette Review
Hang on for a minute...we're trying to find some more stories you might like.
Dreamette is a distinct staple in the city of Jacksonville, especially since it has been open since 1948. Even though the company has recently expanded, adding a location to Jacksonville Beach, the Riverside parlor is still standing strong.
Dreamette is a cash only, soft-serve establishment that offers a wide variety of options. When you arrive, the parking situation is a little unclear, due to the "walk-up" ordering system. However, once you reach the window, from what was probably a monstrous (yet fast moving) line, you are greeted with a warm smile. The menu to your left displays the soft-serve flavors: vanilla, chocolate, strawberry, vanilla/chocolate swirl and vanilla/strawberry swirl. While that might make you feel like you have limited options, the rest of the menu contains items such as, ice-cream cones, dipped ice-cream cones, ice-cream sundaes, milkshakes, soda floats, The Banana Split and more! This list doesn't even include the lengthy set of toppings and flavors such as, oreo, cookie dough, peach and cake batter.
I ordered a medium banana split which comes with vanilla ice-cream, chocolate syrup, pineapples, strawberries, bananas, walnuts and a cherry on top. I am not a fan of walnuts so I opted out on those; however, I stuck with all the other toppings. When my order was called I had an unexplainable feeling that I was going to quickly become a Dreamette banana split connoisseur, and I wasn't wrong. The first bites were just the cherry and ice-cream, which is perfectly sweet, and even though it is currently fall, it felt like the I was having the perfect treat on a boiling summer day. The next layer was banana which added a slight tartness to the dessert, but it was well balanced so that the bananas did not overpower the ice-cream. This was true for the strawberries and pineapples as well. The finale of this frozen dessert was the chocolate syrup, which coats the bottom of the cup and the roof of your mouth. It's hard to write a food review without a cheesy line so, I'll proudly say that each topping is like a perfectly-tuned instrument that is a part of a grander orchestra.  
Due to its success in the last 70 years, Dreamette has continued to perfectly execute soft serve ice-cream with the support of many loyal customers in Duval County. No matter the weather or time of day, you can never go wrong with Dreamette.
Image courtesy of Maya McCall '20.
About the Writer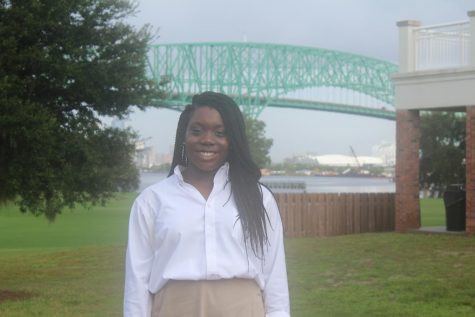 Maya McCall '20, Staff Writer
Maya McCall is a junior and a first-year staffer for The Talon Times. Maya has always loved expressing herself through writing and has now been given the...