Christmas Album Favorites
Hang on for a minute...we're trying to find some more stories you might like.
The Christmas season is here, beginning with the Macy's Thanksgiving Parade, and it seems like it's been here for a while. Welcome to the season of the Town Center speakers-that-look-like-rocks trying to drown out your thoughts with generic Christmas tunes! While they're at it, I thought I'd do some recommending of my own…
In no particular order, my personal favorite Christmas albums are here for your perusal.
Christmas

, Michael Bublé

As if Michael Bublé's voice didn't already sound like a choir of a thousand angels singing just to you, his Christmas album gives the world everything it ever needed in terms of Bublé. It's easy-listening for tree decorating and cocoa drinking. He'll give you the perfect balance of free expression and loyalty to the classics.

Under the Mistletoe

, Justin Bieber

Despite the fervor surrounding "Mistletoe", I must admit I am more taken with another track on this album. Don't get me wrong, "Mistletoe" is a pillar of Christmas spirit that will stand for years to come, but personal memories make "Drummer Boy", featuring Busta Rhymes, my favorite of Bieber's soulful covers.

Merry Christmas

, Mariah Carey

In all honesty, the only song I know off this album is "All I Want for Christmas is You." But to Mariah's credit, the song's eternal success makes this a noteworthy album all by itself.

A Legendary Christmas,

John Legend

A young addition to the team,

A Legendary Christmas

has already given John and Chrissy a national tour and a plethora of television appearances. With featured artists like Stevie Wonder and Esperanza Spalding, this 14 track album packs a jazzy punch. It's worth a listen!

Soulful Christmas

, Aaron Neville

Aaron Neville's voice takes me back to the years I still believed in Santa, with his tear-wrenching "Please Come Home for Christmas" rightfully spearheading his Christmas album. Neville's voice truly lives up to his album's title, bringing a timeless quality to already timeless music.

White Christmas

, Bing Crosby

Not much to say, other than: it's Bing Crosby. It's Christmas. You can't lose.

A Charlie Brown Christmas

, Vince Guaraldi Trio

Who doesn't love Charlie Brown? The Trio's jazz masterpiece has stood the test of time, holding the power to instantly take people back to moments of childlike, cartoonish happiness and simplicity.

Music Inspired by Illumination & Dr. Seuss' The Grinch EP

, Tyler the Creator

Fun's favorite rapper not only dipped his toe into the soundtrack business but also pulled a full Kendrick Lamar, deciding to release an EP entirely inspired by the rebooted

The Grinch

. The six-minute album offers some groovy new tunes to mix into your holiday party playlist.
Image courtesy of The Wrap, NBC.
About the Writer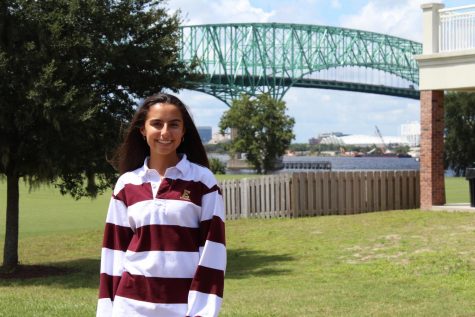 Inés Eisenhour '19, Staff Writer
Inés is a senior who has attended ESJ since sixth grade and this is her second year on The Talon Times staff. Her focus is on human-interest stories and...