Class Rings
Hang on for a minute...we're trying to find some more stories you might like.
In October, Episcopal's juniors began to feel much closer to their 2020 graduation year when they selected their class rings. Class rings can be significant to both students and their parents, commemorating their final year of high school. Rings are personalized for each student with their monogram, sport or even potential future professions.
Rings arrived last Thursday, and while some students were elated to see Josten's table in the Buck, a large percentage of students weren't fazed at all. There were only about 20 names on the list of students to receive rings.
While at the Josten's table, junior Leticia Huntley was smiling from ear to ear, eager to receive the ring she has already worked so hard for. Leticia shared with me that she ordered a ring because, she feels "like they say a lot." This is especially due to the fact that her ring is personalized with features such as her initials, class year and interests (like swimming and travel), along with her birthstone. Finally, I asked Leticia why she felt the majority of her class decided not to order a class ring at this time. She offered, "They must not understand the meaning of a class ring."
In the middle of a hectic junior year, a class ring just might serve as a little piece of motivation for those who ordered them.
Image courtesy of Maya McCall '20.
About the Writer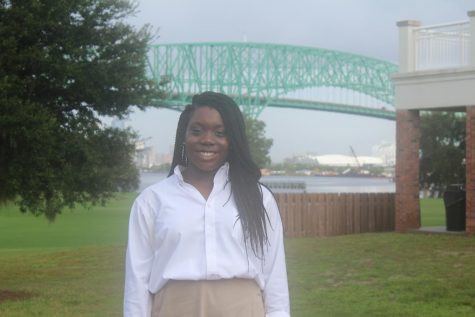 Maya McCall '20, Staff Writer
Maya McCall is a junior and a first-year staffer for The Talon Times. Maya has always loved expressing herself through writing and has now been given the...