A Ghana Wedding: Part Two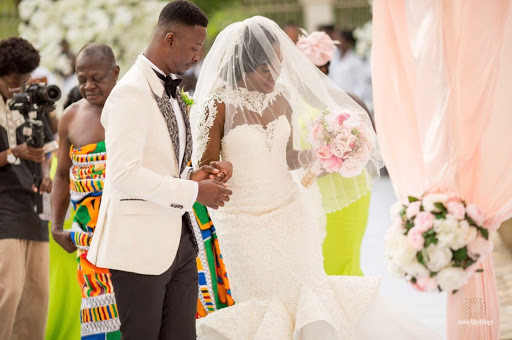 Hang on for a minute...we're trying to find some more stories you might like.
It's February, the month of love and black history, which provides the perfect opportunity for part two of the recap for the Ghanaian wedding I attended. The second ceremony is what we know as our American wedding. This particular couple followed Ghanaian tradition, and then they had a beautiful ceremony, followed by cocktail hour and a lavish reception.
While this may seem no different from our traditions in the states, there are a few factors that differ from what we are used to. First, there is an unspoken rule of time in Africa: their wedding invitation instructed guests to arrive at 3:00. while the wedding didn't actually begin until around 4:15. This wasn't due to a missing bow tie or any another catastrophe; that's just how they do things.  Additionally, when the groomsmen arrive, they do so alone, dancing to the beat of the music, with huge smiles. They then exit and return with the the bridesmaids on their arms. This is done without the two most significant members of the bridal party, the best man and the maid of honor. They walk separately, while the rest of the bridal party is already seated. Once they've walked down the aisle, they take their seats at the altar, behind the bride and groom, as they say their "I-do's". This tradition stood out to me because it was as if they were signifying that those two people always have their backs and should stand alongside them as they make such a sacred commitment to one another.
Ghanaian weddings, and African weddings in general, are truly magnificent and it's hard to keep them small. When I spoke with two other brides who were just married (from Nigeria and from Ethiopia), they shared with me that their weddings both had over 1,000 people in attendance. To avoid this type of overwhelming turnout, in this particular situation, the Ghanaian couple had police officers checking people in at the door (bouncers, if you will).
The reception following the ceremony included a few traditions that are not typical of American weddings. When the bride and groom have their first dance, towards the end, the groomsmen compete to see who can throw the most, "Ghanaian Cedis" (dollars) on the couple; it is often an exciting shower of money. Next, there is a cake-cutting ceremony, in which a couple that the bride and groom admires leads a huge toast and cuts the cake with the newlyweds. My parents, who have been married for 25 years, were chosen to lead the cake cutting ceremony, and it was something I'll never forget.
To close out the wedding festivities, both families of the bride and the groom host separate "Thanksgiving Luncheons".  These gatherings are to thank family, close friends, the bridal party and those who traveled long distances for attending the four ceremonies and for being such integral parts in their children's lives.
During my time in Ghana, I was fascinated at the ornate details of every dress, decoration, table setting and tradition. Ultimately I kept wondering, what tradition can I hold onto and maybe someday recreate? Needless to say, there are many to choose from; Ghana and its people are rich in tradition and core values; this is truly inspiring.
Image courtesy of Maya McCall '20.
About the Writer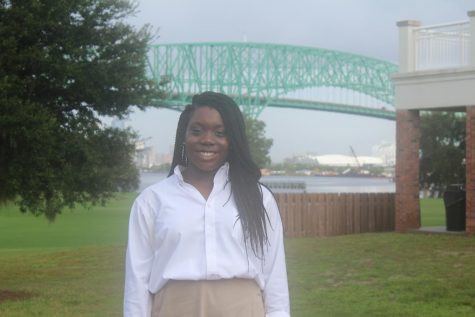 Maya McCall '20, Staff Writer
Maya McCall is a junior and a first-year staffer for The Talon Times. Maya has always loved expressing herself through writing and has now been given the...