How Seniors Really Feel About Heading Off To College
Hang on for a minute...we're trying to find some more stories you might like.
As the school year is coming to an end, it is interesting to hear how seniors feel about moving onto the next chapter.
Kiefer Washburn, a senior at Episcopal who will be attending the United States Naval Academy, explains how he is "very excited to serve my country because it is something I have always wanted to do growing up. I get to follow in my brother's footsteps, although I am super sad to leave my friends at Episcopal."
Senior Phoebe Mori will be attending the University of Alabama, where she hopes to excel in her learning. Mori shared, "I'm looking forward to meeting new people, but I'm very nervous to step out of my comfort zone where I am not going to know everyone like I do at Episcopal. I'm just reminding myself that every freshman is in the same boat and probably feels exactly how I feel."
Zack Blair, the senior quarterback for the Varsity football team at Episcopal, will be attending Concordia University Ann Arbor for football. He feels, "Episcopal has been such a wonderful place, but I cannot wait to leave. I am super excited to continue playing football, which is the best sport in the whole world."
Leah Williams, a competitive Varsity volleyball player for the Eagles will be attending the University of Tampa for her sport. Williams shared, "College is bittersweet. Going off to a place that is away from your home and your childhood friends is the start of a new and exciting chapter in your life. It is a comfortable feeling for me knowing that I am going to a place where I already have a family there waiting for me, a team. I know it is going to be hard being away from the people who have shaped me for the past four years, but I know it will all be worth it."
All in all, everyone is excited to move on to the next chapter although, they are gonna to miss seeing their friends from Episcopal every single day.
Image courtesy of Advancement Office.
About the Writer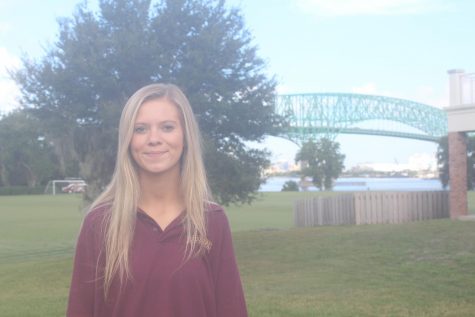 Ashley Long '19, Staff Writer
Ashley Long is a senior who has been an ESJ student since the seventh grade. She's a first-year staffer for The Talon Times. Her main focuses for the...