SOTU: Women In White
Hang on for a minute...we're trying to find some more stories you might like.
White has long been a symbol of peace and tranquility. The atmosphere of the State of the Union was anything but.
Trump's address in the House Chamber was met with a sea of white, in which the Democratic majority sat stoic and unimpressed.
Female Democratic Representatives and their guests donned white in all shapes and sizes, while the less fashion-forward men sported "ERA Yes*" pins and ribbons.
The color has been associated with the suffragette movement, signifying to onlookers that the protests were non-aggressive.
This is not the first time that white has been used by women in politics since the suffragette movement. Shirley Chisholm, the first African American woman to be elected to Congress, wore white to be sworn in (1969). Geraldine Ferraro did as well when she was named America's first female VP nominee, according to CNN.
"Wearing suffragette white is a respectful message of solidarity with women across the country, and a declaration that we will not go back on our hard-earned rights," Rep. Lois Frankel of Florida told CNN ahead of Tuesday's address.
It is important to note that this is not the first time that Donald Trump has been met with the suffragette white. A collection of female Democrats synchronized their outfits for his joint address to Congress (in 2017) to raise awareness around reproductive rights and equal pay, among other women's issues.
*ERA is the Equal Rights Amendment, a bill which has not been ratified in enough states to be added to the Constitution (including FL).
Image courtesy of Rep. Ocasio-Cortez's Instagram.
About the Writer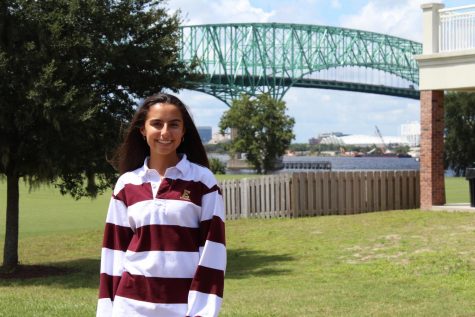 Inés Eisenhour '19, Staff Writer
Inés is a senior who has attended ESJ since sixth grade and this is her second year on The Talon Times staff. Her focus is on human-interest stories and...