Fine Arts Chapel
Wednesday, May 1, was the Fine Arts Chapel. During this chapel, a lot happened. It really showed the talent of the art students. In the sixty-five minutes we were in the Munnerlyn, we saw many exciting things and watched the art kids do what they love most.
The chapel began with a quick monologue talking about the passion art kids have for what they do, with a funny twist. Then, we were introduced to the chapel and shown artwork, photos, and sculptures on the screen of Senior student's work. We also watched an amazing performance from the senior dancers that showed a lot of emotion. Another performance was chorus. They sang two songs from their chorus concert.
Later on, all the seniors going to art school were announced and given roses; wow, we have a talented group of seniors. They are all going to schools for many different majors such as architecture, music therapy, and fashion design, just to name a few.
The chapel ended with all the art students from all of upper school coming together to sing a song and dance, while holding candles. This chapel really highlighted the talent we have at the school in the art programs.
Image courtesy of The Talon Times Staff.
About the Writer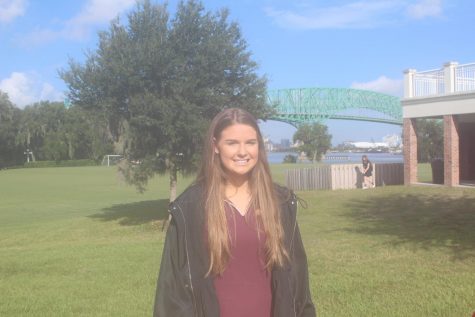 Kate Risdon '19, Staff Writer
Kate is a senior who has been a student at ESJ since 7th grade. This is her first year on The Talon Times staff, and she is loving it! Her main focuses...