2019-2020 Club Fair
The posters and the markers in the campus store have been flying off the shelves. Candy bowls and cookies plates are being produced en masse, and maintenance has been stuffing the Semmes Gym full of tables. Why? Because Episcopal's club scene is officially about to explode. Club officials are preparing for the wave of students expected during Episcopal's 2019-2020 Club Fair. The importance of this event cannot be understated, because this is an opportunity for clubs to rebuild their numbers. 
Episcopal's International Thespian Troupe understands firsthand the importance of engaging prospective members. "It's always exciting when you get the chance to bring a group of strangers together and make them a family through a shared passion," explained Naiya Cheanvechai '20, "and the club fair is where it all starts." 
But how do you catch the eyes of the students, when so many other clubs are trying to do the same? Lucas Thompson '20 of the Dynasty Club claims that the key elements are information and incentive. "Madison Clark ['20] is making our poster," he says, "and I'm in charge of bringing in food for the table". 
Many clubs would agree with Thompson's sentiment. Carrisa Izzard's '20 poster for Community Service Council has plenty of information. "The poster in essential. It has our meeting days, this year's goals, and even the link to join the Remind. Food is important as well though, and I'm still working on that."
Meanwhile, Episcopal's BlueGreen Club has taken it to another level. As one of the newest clubs on campus, Chris Gardner '20 has used social media to his advantage in order to pick up prospective members. Blue Green Club's Instagram account has been extremely active, promoting clean-up dates."We've been scouting some D1 trash collectors," declared Gardner. "It's gonna be a great year."
Image courtesy of Jewel Hardwick '20.
About the Writer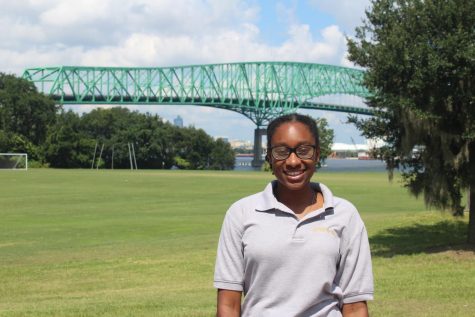 Jewel Hardwick '20, Staff Writer
Jewel Hardwick is a senior and a first-year staffer for The Talon Times. She is known campus-wide as an enthusiastic girl, with a rather strange affinity...