Senior Spotlight: Justin Aho '20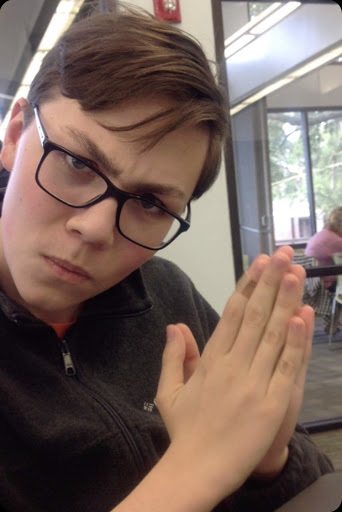 Justin Aho, as you may have already guessed, is a senior at the Episcopal School of Jacksonville. He is heavily involved in school and outside of the classroom with extra-curricular activities. He also plays a vital role in many clubs on campus. He is on the Honor Council and is a part of the National Honor Society. Justin also has a lot of energy, which he puts into everything he does. 
Q: Why do you want this job?
A: "I want this job because my father told me when I was three years old that I need this job to be successful, and if I didn't get this job I wouldn't be able to feed my poor family. Success is the measure of one's realized potential."
Q: What clubs are you involved in and what role do you play in each one? 
A: Justin is a member of the Ethics Bowl, Trivia Titans, Honor Council and both Eagle Ambassadors and the Eagle Ambassador Leadership Team. He is also the co-president of the Young Republicans Club.
Q: Are you taking any AP or honors classes, and if so, how do they challenge you?
A: "I am taking four AP classes. I think the AP classes challenge me with time management and with my understanding of the material."
Q: If you could be any animal/creature, real or fake, what would you be, and why?
A: "I WANNA BE A PANGOLIN because they walk like this."
   *Justin poses as a pangolin with his arms tucked in towards his body, similar to impersonating a t-rex*
Q: What is your favorite food? 
A: My favorite food is steak. It's just so good."
Q: What is your favorite class at Episcopal, and why?
A: "My favorite class this year is AP Gov and Politics because I really think the subject material is important for young adults to understand, and I also like the course and learning about the structure and intricacies of the U.S. government." 
Q: What do you enjoy doing outside of school?
A: "I enjoy my extracurriculars, and I'm apart of the teen court downtown."
Q: Does the postman deliver his own mail?
A: "I suppose if his address was in his postage district he would, as the dictum states, deliver his own mail."
   *At this point, Justin started asking himself questions, and Will Hines '20 started to ask some questions as well.
Q: How do you like your meat cooked?
A: "Medium rare. That's the only way to eat meat."
Q: What is your favorite color?
A: "Coral is my favorite color. It has just the right color and intensity to create a soft, warm aesthetic."
Q: What is your favorite architectural style? 
A: "Neoclassical. It blends the classical ideas of discipline, balance and symmetry with modern application."
Q: What's your favorite word?
A: "Apotheosis."
Image courtesy of Josh Kewere '20.
About the Writer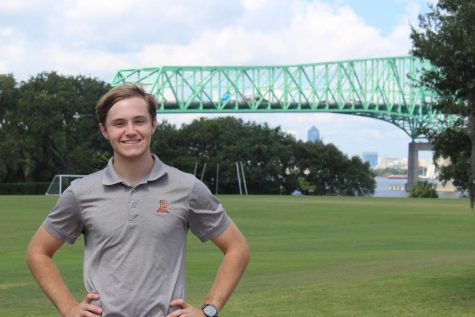 Robert Jackson '20, Staff Writer
Robert Jackson is a senior and is a first-time staffer for The Talon Times. He is on the Varsity wrestling team, and enjoys fishing, exercising, reading...