Senior Spotlight: Chris Gardner '20
Chris Gardner is a senior on campus who is very involved with the school's extracurricular activities. He plays three sports and was one of the best football players in the city, as he was selected to play in the North Florida Football Coaches' Association Senior Bowl. Chris is involved in clubs and is the founder of one of the most popular clubs on campus, the Blue-Green Club.
Q: What club are you most involved in and what do you do within that club?
A: Blue-Green Club. I literally run it, and I organize cleanups as the President and CEO and founder of the club.
Q: If you could be a lunch meat, what meat would you be and why?
A: Turkey because turkeys have stuffing, and to be a good person, you have to have thick skin.
Q: Are you playing a sport during the winter?
A: I am playing basketball.
Q: If you had a million dollars, what would you buy?
A: I would give it Mr. Lavelle and have him invest it and make me a trillion dollars.
Q: What senior superlative would you give yourself?
A: Most likely to get the teacher off-topic.
Q: What is your favorite food?
A: Battered spicy chicken.
Q: Use one word to describe yourself.
A: Happy.
Image courtesy of ESJ Boosters.
About the Writer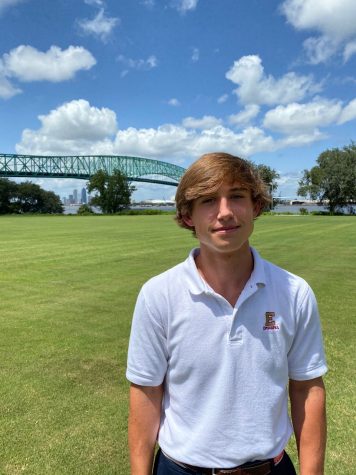 JP Coll '22, Editor-In-Chief
JP Coll is a junior and one of the Editor-In-Chiefs of The Talon Times. JP is an Eagle Ambassador, a part of the Blue Green Club and played on both the...