Joe Burrow's Dominant Season
When you Google "the most dominant season ever by a college football quarterback" you might find answers like "Tim Tebow in 2008," "Sammy Baugh in 1936," or "Roger Staubach in 1964." After the conclusion of Monday night's College Football Playoff Championship, you will likely start to see a new name top those lists: Joe Burrow. 
Burrow's path to stardom was not foreseen by many. "I've been told I wasn't good enough since recruiting. I had one offer after my junior year of high school, and it was my dad's team (Ohio University)." Burrow eventually ended up at The Ohio State University, after receiving the offer his senior year. 
After being assigned the uneventful task of being a backup at Ohio State University for three years, he decided that it was time to transfer. Burrow ultimately decided to transfer to Louisiana State University (LSU) to become the starting quarterback in what was then a run-heavy offense.
Many of Burrow's supporters thought the move to LSU would not be in his best interest. After an average redshirt junior season, even more people doubted him. According to ESPN, LSU was ranked sixth in the preseason AP poll. 
Burrow ended up getting the opportunity to play 4 out of the 5 teams ranked above LSU in ESPN's preseason poll this past season and he exceeded everyone's expectations. While playing the toughest schedule in college football, he managed to complete 76% of his passes, have over 5,600 yards through the air, along with 65 total touchdowns and only 6 interceptions. 
His 60 passing touchdowns set a new FBS record previously set by Hawaii's Colt Brennan in 2006. Unlike Brennan, Burrow did this while beating teams like the previously number 2 ranked Alabama Crimson Tide on their home turf which has arguably been one of the toughest things to do in sports. He did so in dramatic fashion, winning the game 45-41. 
Burrow capped off his fairytale-like season Monday night with a dominant victory over the Clemson Tigers in the National Championship game. He showed his true dominance beating the second best team in college football while racking up over 500 total yards and accounting for 6 touchdowns. Burrow's ability to perform at this level consistently showed everyone why he may be the greatest college quarterback to ever play the game
Image courtesy of Wikipedia.
Facts courtesy of sportingnews.com.
About the Writer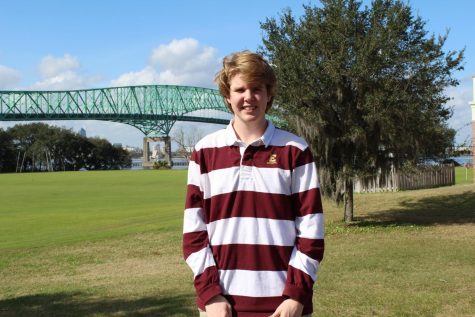 Nolan Nicholson '20, Staff Writer
Nolan Nicholson is a senior and first-year staffer for The Talon Times. He has attended Episcopal since the sixth grade and is on the Varsity Tennis team....