Megan Thee Stallion Makes A Statement During SNL Performance
It was October 3, 2020, when Megan Thee Stallion transformed from ordinary rapper to social activist on Saturday Night Live's (SNL) stage. She used her performance on SNL's season premiere to make a powerful statement about violence toward black women. 
As she performed her hit single "Savage", the words "Protect Black Women" appeared on the screen behind her. About halfway through the song, the music cut out to the sound of rapid gunfire while Megan and her dancers stood silently before a screen with images of piercing gunshots. 
The dramatic interruption included audio from Malcom X speaking in Harlem in 1962, where he says, "The most disrespected person in America is the black woman. The most unprotected woman in America is the black woman. The most neglected person in America is the black woman. Who taught you to hate the texture of your hair? The color of your skin? The shape of your nose? Who taught you to hate yourself from the top of your head to the soles of your feet?"
His audio was immediately followed by modern-day activist and leader of the 2017 Women's March, Tamika Mallory who criticized Kentucky Attorney General Daniel Cameron after learning of the grand jury's decision not to indict any of the three officers involved in Breonna Taylor's death. Because of Cameron's failure to give Taylor the justice she deserved, Mallory accused the Black prosecutor of being "no different than the sellout negroes that sold our people into slavery."
After Mallory's quote Megan spoke directly to the audience with her own powerful message: "We need to protect our Black women and love our Black women, because at the end of the day, we need our women." She then changed her focus by speaking about the Black men wrongfully killed by police violence. "We need to protect our Black men and stand by our Black men because at the end of the day, we're tired of seeing hashtags about Black men."
Megan Thee Stallion's message was even more amplified because she too was recently a victim of gun violence herself. This personal experience led Megan to use her platform to share her message of protecting Black women. Her decision to promote social justice on such a big program like SNL proves why she is one of the most popular rappers out right now. Megan had something very important to say, and viewers across the country heard that message.
Link to performance: https://youtu.be/J9wq14EnezU
Image courtesy of Wikimedia Commons & Flickr.
About the Writer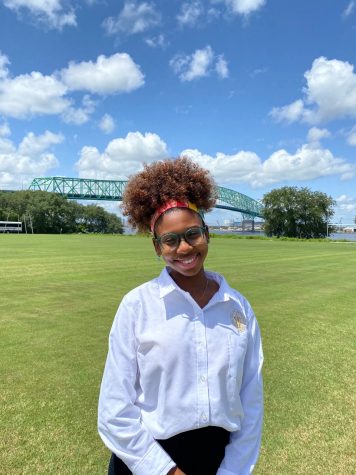 Chey Ann Boyd '21, Staff Writer
Chey Ann Boyd is a senior and first-year staffer for The Talon Times. She has always loved expressing her creativity through photography, but this student...