End SARS
Above is the Nigerian Flag which has been trending for sometime now because of the  #EndSARS movement. 
This movement of young Nigerians taking to the streets in anger first began following a viral video showing the unprovoked killing of a Nigerian man, at the hands of police officers from the Special-Anti Robbery Squad, commonly known as SARS. The victim was left on the side of the road after officers shot him, so many witnesses took to social media to express their sadness and frustration. 
As the video continued to circulate on all platforms, the hashtag #EndSARS gained lots of momentum sparking a movement amongst youth to ban SARS for its years of brutality against Nigerians. Through the movement, more Nigerians are allowing their voices to be heard as they share stories about the violence and harassment experienced at the hands of SARS officers.
Although these recent protests have sparked an important conversation for Nigerians, the complaints against the SARS police aren't new. People have been condemning them since 2017. That December, the Inspector-General of the Nigerian police, Ibrahim Idris, announced his plan to reorganize the entire police unit— pursuing cases of police abuse that were originally ignored. Even government officials got involved, but it proved ineffective because the 2017 anti-torture legislation prohibited torture and all forms of inhumane treatment, but failed to truly hold any officers accountable who violated conduct. 
A year later the Nigerian vice president, Yemi Osinbajo, demanded that Idris restructure SARS once again, banning stop-and-search raids, and requiring officers to wear uniforms with full identification. But despite this effort, a 2020 Amnesty International report still documented 82 cases of SARS extrajudicial killings, extortion, and torture methods, including "hanging, mock execution, beating, punching and kicking, burning with cigarettes, waterboarding, near-asphyxiation with plastic bags, forcing detainees to assume stressful bodily positions, and sexual violence." 
After years of depending on those in leadership for adequate police reform, the people of Nigeria are taking initiative by demanding change and protesting injustice. Protestors have developed five core demands from government:
Release all arrested protestors

Grant justice for all deceased victims and compensation for their families of 

Create an independent body to oversee investigations of police misconduct

Pschologically evaluate all disbanded SARS officers before they are redeployed

Increase police salary to protect citizens from extortion
Their demands have yet to be met with at least 56 protestors killed, a protest ban, curfews in place around Nigeria and further threats of violence by SARS. Even though this action has halted street protests for now, many organizers continue to look for alternatives to preserve the movement. 
The #EndSARS movement in Nigeria has often been compared to the summer of Black Lives Matter protests in the US against police brutality. Garnering massive support around the world, many have stood in solidarity with this monumental Nigerian movement. Time will tell how this movement will be able to transform the Nigerian justice system, but one thing is certain— the fight against global police brutality is far from over.
Image courtesy of Wikimedia Commons.
Facts courtesy of amnesty.org, cnn.com, time.com, vanguardngr.com and washingtonpost.com.
About the Writer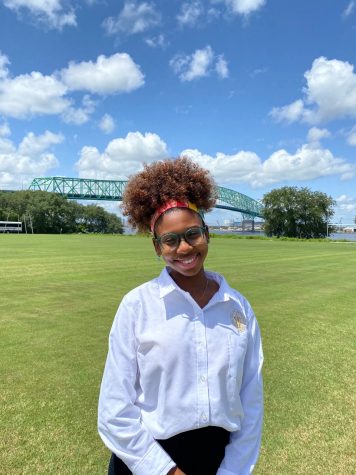 Chey Ann Boyd '21, Staff Writer
Chey Ann Boyd is a senior and first-year staffer for The Talon Times. She has always loved expressing her creativity through photography, but this student...