About Amanda Gorman
" When day comes we step out of the shade,
aflame and unafraid
The new dawn blooms as we free it
For there is always light,
if only we're brave enough to see it
If only we're brave enough to be it."
These monumental words were read aloud by Amanda Gorman. The 22-year old inaugural poet took the world by storm with her poem, "The Hill We Climb". Gorman made history as the youngest-ever poet to recite at a presidential inauguration. Even before she became the nation's first-ever youth poet laureate, she had been doing groundbreaking things her entire life. Below are seven things you should know about Gorman.
She was born in Los Angeles. Gorman was born on March 7, 1998 in Los Angeles, California. As she mentioned in her poem on inauguration day, she was raised by a single mother, an English teacher named Joan Wicks. She now lives in an apartment in West L.A.
She is a twin. Believe it or not, Gorman is not the only talent in her family. Her twin sister, Gabrielle Gorman, graduated from UCLA's School of Film and Television. As a decorated filmmaker and activist, Gabrielle dedicates her life to making waves in the film industry.
She was the first in a new role. Before she became the youngest poet to deliver an inaugural address, Gorman was named the first-ever National Youth Poet Laureate in 2017. Before that, she became the Youth Poet Laureate of Los Angeles at 16 years old! (She was the first to receive this honor.) 
She was chosen by the First Lady. Dr. Jill Biden, the new First Lady of the United States, was the one who selected Gorman to perform at this year's inauguration. Dr. Biden advocated for Gorman to the inaugural committee after witnessing her recite poetry at the Library of Congress. 
She has a speech impediment. Even with a speech impediment, Gorman became an exceptional public speaker. In her younger years, she developed an auditory processing disorder that caused her speech impediment. "My speech impediment…was dropping several letters that I just could not say for several years, most specifically the 'r' sound," she specified. "I had to really work at it and practice to get to where I am today." Her role at the inauguration was especially meaningful because President Joe Biden has also struggled with a speech impediment— stuttering.
She finished her poem after the Capitol riots. "We've seen a force that would shatter our nation rather than share it, would destroy our country if it meant delaying democracy,…And this effort very nearly succeeded. But while democracy can be periodically delayed, it can never be permanently defeated." These inspirational words that she recited at the inauguration podium came two weeks following the moment when armed insurrectionists stormed the U.S. Capitol to try to stop the certification of the 2020 election results. Compelled to address this in her poem, Gorman finished the poem that night. 
She will be performing at Super Bowl LV (55). Normally, we'd see singers and dancers performing on the Super Bowl stage, but this year Amanda Gorman is set to become the first poet to present an original poem in Super Bowl history. Her original work will highlight three people the NFL is honoring as honorary captains. These individuals aren't athletes, but they are heroes off the field. Trimaine Davis, an educator; Suzie Dorner, a nurse manager; and James Martin, a veteran—are being recognized in their communities for their role as leaders during the Covid-19 pandemic. 
Sources Below: 
Image courtesy of Wikipedia.
About the Writer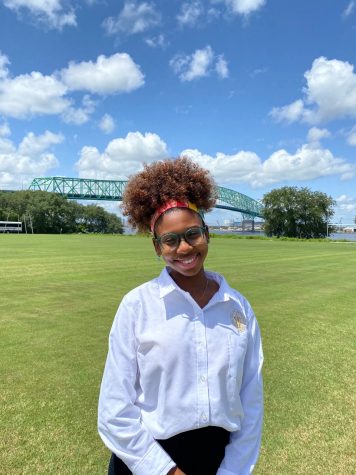 Chey Ann Boyd '21, Staff Writer
Chey Ann Boyd is a senior and first-year staffer for The Talon Times. She has always loved expressing her creativity through photography, but this student...