Student Business Highlight: Winnie Pajcic '21
Another extremely talented student at Episcopal is senior Winnie Pajcic! Her interest in mask-making began with "mainly just the spare time in quarantine, along with my passion for fashion and the ability to create."
Winnie added that she "would see big projects and little ones, yet when we were told not to purchase medicinal grade masks so that they could be saved for healthcare workers, and my skin had flared up from cotton masks, I wanted to make my own! The masks I make are silk, which are less irritating to the skin and also are more breathable."
Winnie was able to learn how to sow from "a good family friend who is 85. Her mom taught her to sew and she was extremely excited when I asked her to pass down the skill to me. Her name is Sylvia!"
Winnie also creates other things such as "dresses, skirts, and shirts, mostly. It's become kind of dangerous because whenever I see something cute with a not-so-cute price tag my mind immediately goes to 'I can make that.'" 
I loved hearing Winnie's side of the business, being one of her customers, and how she started during quarantine!
Image courtesy of Winnie Pajcic '21.
About the Writer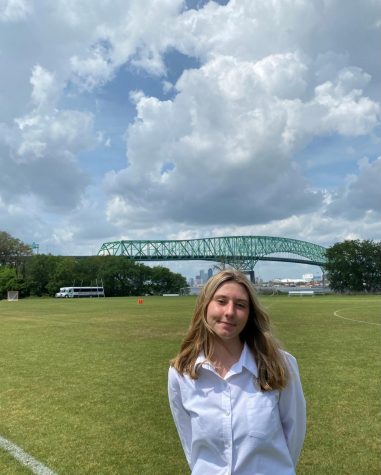 Margaux Forsbrand '21, Staff Writer
Margaux Forsbrand is a senior and first-year staffer for The Talon Times. Margaux plays golf and softball, and she is also involved in two Fine Arts programs...