Drew Brees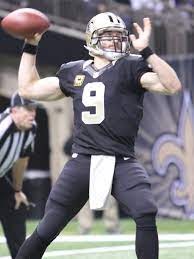 When talking about the greatest quarterbacks of all-time, the name Drew Brees is at the top of the list. Brees was drafted into the league by the San Diego Chargers in 2001, with the first pick of the second round. Brees was on the Chargers from 2001-2005 until he was left in free agency for the New Orleans Saints to pick up. Little did everyone know, this would be the start of a legendary career. 
Brees became the face of the franchise for many years to come. This is because from 2006 all the way to this year Brees threw up hall of fame numbers including 80,000 passing yards, which is first all-time, 571 touchdowns, which is second all-time and 7,142 completions, which is first all-time as well.
Along with these phenomenal stats, Brees has been to 13 pro bowls, 1 all-pro, 2 offensive player of the year awards, 1 comeback player of the year award in 2004, a Walter Payton man of the year award in 2006, a 2009 Bert Bell award and to top it off, one Lombardi Trophy, along with a Super Bowl Most Valuable Player.
Brees announced his retirement March 14 of this year, although it was expected, many were in shock that this time had finally come.
 Many players and teams around the league reacted to this announcement via Twitter including Tom Brady, The Saints, The Falcons, The Buccaneers and many more. If you didn't know how big of a deal Drew was before, know you do. He impacted the league for the better, and also left a heck of a legacy as well. Brees is one of the GOATs and will remain in that talk forever.
Image courtesy of Tammy Anthony Baker.