March Madness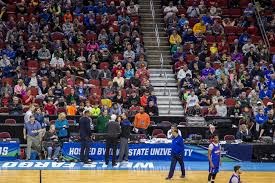 Easily the best time of year has come upon us, March. March Madness is finally back, after being cancelled last year due to Covid-19. It's been a long two years without the greatest sporting event in the world, but it makes the tournament that much sweeter this year. From making brackets, to buzzer beaters, to upsets, to breakout players and more, if you love sports, there is so much to love about March Madness.
One great thing about the tournament is that if a team wins their conference tournament, they automatically get in, which doesn't really matter for the better teams, but this gives really small schools the opportunity to play on the big stage, in front of millions of people, and possibly shock the world. What helps these teams is that the tournament is single elimination so anything can happen, which leads to some of these small schools to become "Cinderella" stories. 
Cinderella stories are simple; teams that shouldn't have a chance, beat some good teams in the tournament. For example, in 2018, the Loyola-Chicago Ramblers were an 11 seed, and expected to win one game at best, but Loyola shocked the world and made it to the Final Four. The best thing about March is that the best teams don't always win. Loyola's run was magical, but they were not one of the four best teams in the country, which makes the tournament fun because anything can happen. 
Another beautiful thing about March is the buzzer-beaters. Nothing beats the feeling of your team hitting the game winning shot. As a Michigan fan, I've gotten to experience two of the most memorable buzzer-beaters of the decade, one of which was Jordan Poole's shot against Houston to keep our season alive. Right before that shot, my month was ruined, my team was about to lose and we had to get the ball down the entire court in 3.6 seconds, I thought we had no chance. The instantaneous leap of emotion after Poole hit the shot might be the best feeling ever. It was midnight, and I started jumping around yelling, which woke everyone in my house up, but I didn't care. Magic had just transpired. 
When filling out a bracket, every year the thought goes through millions of peoples' heads, "there's no way this team loses", and people are surprised every year, which is why after the first couple days of the tournament, most people have given up on their bracket. The only guarantee in March is that there are no guarantees, which is what makes it great. I haven't even come close to covering everything that makes March Madness great, and I could probably go on forever about it, but nothing is going to be better than watching the games during the school day again this year.
Image courtesy of Phil Roeder.