Trevon Diggs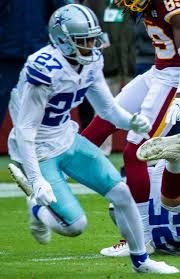 Although it feels like the NFL season has just begun, it is already week 7 and some young players have really made a name for themselves, including Trevon Diggs.  Diggs has been an absolute nightmare for opposing quarterbacks and will continue to be throughout the rest of the season.
To give you an idea of how good Diggs is, he has scored two touchdowns this year as a cornerback. His brother, former pro bowler, wide receiver, Stefon, has two touchdowns as well. Stefon is a top five wide receiver no doubt, but no one expected this electric style of play that Trevon has shown so far this season.
On top of his two pick sixes, he had five other interceptions. He picked off Tom Brady, Justin Herbert, Jalen Hurts, Sam Darnold (twice), Daniel Jones and Mac Jones. His seven interceptions is currently number one in the NFL by three. They are also currently tied for an NFL record for most picks in six games. Diggs has also become the first player in the superbowl era to have seven plus interceptions and multiple interceptions returned for touchdowns. 
At the young age of23, Diggs has already shown signs of becoming one of the greatest to ever do it; however, he has much work to do and knows that. For example, last week versus the New England Patriots, he picked off rookie quarterback, Mac Jones, with just over two minutes left in the fourth quarter and took it to the crib, putting the Cowboys up 26-21. Just after that, the first offensive play of the drive, Jones connected with wide receiver, Kendrick Bourne, for a 75 yard touchdown putting them back in the league. Diggs had tried to cut off the route, but Bourne had used a double move to break away deep and catch the ball. Although safety, Demontae Kazee, had taken a bad angle missing the tackle, Diggs still took full responsibility for the loss: "It was my fault. I should've been on top of it, so I take full accountability."
Even at such a young age, Diggs has shown great maturity, leadership, work ethic and accountability, and because of these traits, the name Trevon Diggs will go down as one of the greatest to ever do it!
Image courtesy of Flickr.