Into The Woods Memories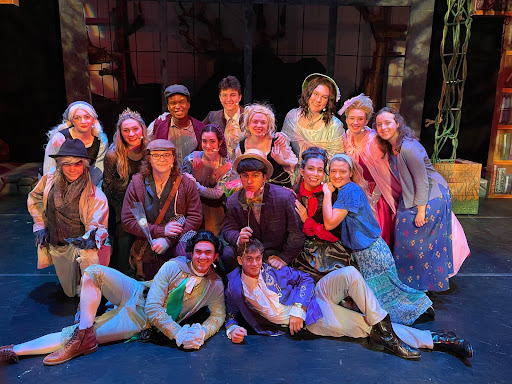 Since this was my last fall musical at ESJ, I wanted to share some of my memories of Into the Woods.
One of my first memories of Into the Woods was when I was at work. It was a Saturday afternoon and I went to the back to take my break. When I looked at my phone, it had been blown up with all of my friends congratulating me. I went to my inbox to find that I got casted as Jack's mother. I literally screamed. This is one of my favorite memories because I just remember reading the cast list and seeing all the amazing people I was going to be able to spend so much time with and that I also got casted as a lead.
Now, fast-forward to November when it was Tech Week. Everyone was so close, and we were all so excited to perform this show that we had worked so hard on.
Another one of my favorite memories was when it was Show Week. All the senior girls were in a dressing room together and every day we would all take polaroid pictures and play music. Every day featured different music. Some days we would play Britney Spears and on other days we would play French music. Something that the senior girls did was we kissed our dressing room sign with our lipstick. Also, when we were all backstage, we would go up to people and hook fingers; this is a way of saying break a leg when your mics are live.
Overall, out of all the musicals I have done at ESJ, this one not only has been the most rewarding, but I have made some of the best memories and also some of my best friends. I will forever keep these memories and many more from this amazing show.
Image courtesy of Maddy Carroll '22.