Bills versus Chiefs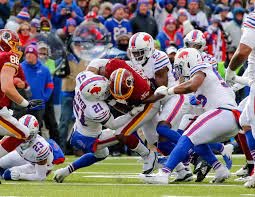 The Kansas City Chiefs and the Buffalo Bills played a great AFC divisional round clash in the NFL playoffs. The two quarterbacks Josh Allen (for the Buffalo Bills) and Patrick Mahomes (for the Chiefs) combined for 25 points in the final two minutes of the game. Mahomes threw for 378 yards and three touchdowns, while Allen threw 329 yards passing and scored four. Both also led their teams in rushing. 
The game did not disappoint from the start. The Bills drove down the field on their first possession to score a touchdown, and the Chiefs replied immediately after. The first 58 minutes many may forget, although it was a playoff game for the books. 
The scoring in the fourth quarter went crazy. The Chiefs were leading 26-21 and that is when Allen found Davis open and put the Bills in the lead. It was not long until the Chiefs gained the lead back and Mahomes found Hill over the middle ready to score. It kept going back and forth until 
13 seconds were left, and with the Chiefs being down by 3, it was almost impossible Kansas City could find a way into the game. Mahomes was able to get his team in range for a field goal causing an overtime. 
Allen's mistake on the coin toss in overtime caused the Bills and Allen to never get back onto the field. The Chiefs drove all the way down the field and then Mahomes threw a walk-off touchdown to Travis Kelce making the AFC divisional round game end 42-36.
The Chiefs will play the Cincinnati Bengals in the AFC championship.
Image courtesy of Wikimedia Commons.