2022 NBA Dunk Contest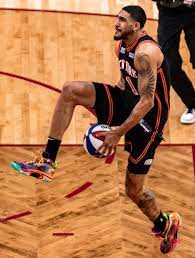 This year, the National Basketball Association's dunk contest was one for the books and not in a good way. The contest took place in Cleveland, at the Rocket Mortgage FieldHouse, home of the Cleveland Cavaliers. The contestants were: Obi Toppin (Knicks), Juan Toscano-Anderson (Warriors), Cole Anthony (Magic) and Jalen Green (Rockets). Of the contestants, this year's second pick, Jalen Green, was the favorite to win at +125 odds (bet $10 to win $12.50). 
Although it's supposed to be a dunk contest, it wasn't much of one. The Magic's Anthony had an early exit after running out of dunk attempts on his second go around of round one. However, he wasn't the only one. Juan Toscano-Anderson, of the Golden State Warriors, also had his run come to an early end after not being able to complete his second dunk in enough attempts.
That leaves the two favorites of this contest, Toppin and Green. With Green being the favorite, you would think he had this in the bag, but that was not the case. Toppin stunned the crowd with the only highly-scored dunk of the contest: an off-the-backboard, through the legs, reverse. This seemed to be the only thing to generate even a bit of energy in the arena all night. 
Although the contest was close between Green and Toppin otherwise, it didn't matter due to Toppin making his presence well known early on in the contest. Toppin had the second highest odds going into the contest at +175 (bet $10 to win $17.50); however, he overcame the slim margin that stood between him and Green and took home the title of 2022 Dunk Contest Champion. 
While Toppin had put on a show, viewers were very unsatisfied with the result of this year's contest. Many celebrities and companies went to Twitter to express their feelings such as: Benny the Bull, Overtime, Nikko Thomas, Bill Simmon  and many more. Memes spread very quickly across the internet, all in order to create a change for this event. It used to be a hyped-up, well-respected, entertaining event, but now it just seems to be getting worse year by year.
Image courtesy of Erik Drost.