Faculty Spotlight: Ms. Michelle Krueger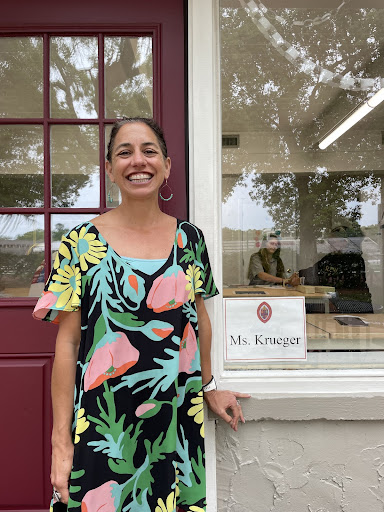 For this interview, I decided to interview a fan favorite amongst art kids and Episcopal students alike: Ms. Michelle Krueger. Ms. Krueger has been a role model for me ever since the sixth grade when I first stepped foot in her classroom. Though most of the community knows about her passion for staying active and participating in any running event she can, I thought she was deserving of an interview to give students a deeper dive and new perspective into her life.
How long have you been teaching?
I am in my 23rd year of being at Episcopal.
Did you teach anywhere else prior to Episcopal? 
No, I worked for an advertising agency in Orlando, then at JU as an admissions counselor.
Did you know you wanted to teach from an early stage in your life or did you want to do something else? 
I didn't consider teaching as a profession, but I have always loved art and feel blessed to share my passions with students and get them to believe in themselves. 
What is your favorite medium of art to use and to teach?
 It is difficult to choose just one. I love using color pencils, water colors, acrylic paints… Everything!
What is one of your favorite memories of being an art teacher?
 Also difficult to choose but I have a student named Kaitlyn who recently blew me away with a graphite drawing of Harry! 
What is one piece of advice you would give all your students?
As long as you are trying your best that is all that matters. Believe in yourself, and don't fall into the comparison trap! 
What's your favorite color! And why? 
Chartreuse because it reminds me of lush green grass, and I love being outdoors.
Image courtesy of Kaitlyn Sweder '22.