Van Gogh Exhibit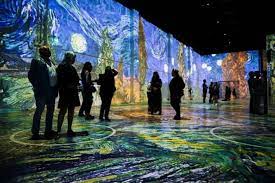 If you are looking for something fun to do in Jacksonville, go check out the new Van Gogh exhibit!
There are over 300 pieces of artwork in this exhibit that give an immersive experience. This exhibit shows Van Gogh's artwork through a pixelated lens that you get to walk through and experience to the fullest. The artwork is projected around this 30,000 square foot museum and brings Van Gogh's artwork to life.
Many works of art made by Van Gogh are very familiar such as: The Starry Night, Irises, his self portraits, etc. The works in this exhibit are brought to life, while moving the paintings to make them look almost like a video. This makes the experience even more unique as you walk through the museum. I find the different approach of showing artwork captivating and interesting. Many people have enjoyed this exhibit and I hope you will too! You can get tickets at https://vangoghjacksonville.com. Enjoy!
Image courtesy of news4jax.com