Jags Season Wrap-Up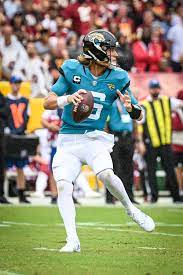 A couple of weeks ago The Talon Times reported on the beginning Jacksonville Jaguar's stats and how the season may or may not go.
Over the last couple of years, the Jags as a team had not been doing well. Some fans blamed the ex-coach, Urban Myers. Others just blame the team itself.
With a new record of 9-8 and a five-game winning streak, the Jaguars advance to the playoffs.
After beating the Titans with a bad seven-game losing streak of a record of 7-10, it was official that they were going to the playoffs.
The next week in the playoffs is referred to as the wild card round, and the Jags looked to the LA Chargers, with the knowledge that on September 25 we beat them with a score of 38-10.
The odds of moving on to the next round in the playoffs are solid.
The Jaguars have shown major improvements in the game itself and growth as a team. Go Jags!
Image courtesy of Wikimedia Commons.