Baha Mar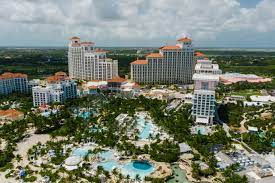 I had the privilege of going to Nassau, Bahamas this past spring break, staying at the resort, Baha Mar. My experience was amazing! The food was well-prepared, with some of the nicest servers I have ever had. All of this resort's staff were incredibly friendly and patient. I absolutely loved this resort, and I highly recommend staying there.
This resort includes a giant casino that combines three hotels: Grand Hyatt, SLS and the Rosewood. All three buildings are inclusive of each other's dining establishments, pools and beach clubs.
If you go to Baha Mar, I highly recommend walking to the boardwalk beach where you not only get served drinks and food on the beach but also get to relax, while looking at the clear water; you also get a feel of the culture as some locals sell handmade souvenirs and jewelry.
Do not worry, this resort is not only fun for adults, but also children, including a water park, water sports and jetskis to entertain families with littles! I went on a jet ski with my best friend, and it was so much fun, I highly recommend it.
In conclusion, although this resort is high-class and more on the expensive side, I think it was very worth it for this amazing experience that I had, and I recommend it to any audience.
Image courtesy of Pexels.