End Of Minshew Mania?

Gardner Minshew took the country by storm with his mustache, clothes and other crowd-loved antics, as he led the Jaguars to a 4-4 record. 
However, On Sunday, Minshew easily had the worst game of his young career. The Jaguars were embarrassed in their "home away from home", in London, where the score resulted in 26-3 against the Houston Texans. The Jags have seen recent success in London, but this year was a completely different story. 
The Jaguars offense only scored a measly three points following Minshew's 57% completion percentage, two interceptions, two lost fumbles and zero touchdowns. The offense was slow, predictable and frustrating to watch, and after barely moving the ball, drives resulted in a punt after punt. 
To a normal NFL quarterback, a game like this would frustrate fans and coaches, but they would move on and focus on the next game. This game, however, raised a different problem for Minshew and the Jaguars coaching staff, because of the other extremely talented Super Bowl MVP, Nick Foles. Foles collarbone broke during the first game of the season after a beautiful touchdown pass to DJ Chark. Foles was placed on injured reserve, with a designation to come back by week 11. 
The Jags will travel in two weeks to play the Indianapolis Colts to start week 11. Foles will be fully healthy for the game, but Minshew's outstanding performance gave the Jags the best problem to have in football, two very good quarterbacks on the roster, and a large difference from last season.
In his postgame interview, Jags Head Coach, Doug Marrone said "he needed time to make a decision on the starter."  But, by the Tuesday after the Minshew's horrific performance, Marrone has already announced Foles as the starter for the Colts game. 
Minshew is still under contract for three more seasons,and there is no doubt that he will be apart of the Jags' long term plans. But that maybe after the Foles era comes to an end.
Image courtesy of Jacksonville Jaguars.
About the Writer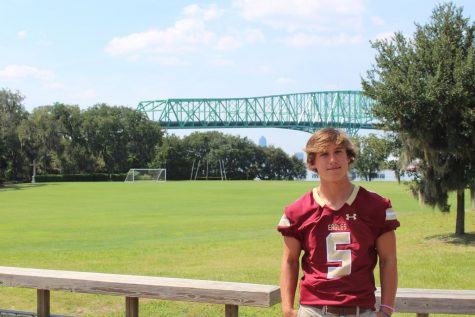 JP Coll '22, Staff Writer
JP Coll is a sophomore and a first-year staffer for The Talon Times. JP is the vice president of the sophomore class, an Eagle Ambassador, and a member...