Naomi Osaka Wins US Open After Historic Comeback
On Saturday's US Open, the Arthur Ashe Stadium would usually be roaring with thousands of fans as they watch their favorite tennis athletes compete for the big title. But when Naomi Osaka beat her opponent Victoria Azarenka in a historic comeback, there were few people in the stands to watch her victory or shower her with applause. 
That did not matter to her. She still wanted to fully embrace this moment, so she laid down in the middle of the court, hands folded and eyes gazing up at the sky for almost 20 seconds.
"I was thinking about all the times I've watched the great players sort of collapse onto the ground and look up into the sky," Osaka said. "I've always wanted to see what they saw."
Although she was the reigning champ, Osaka started very slowly against a skillful Azarenka. She began the match extremely flat, while Azarenka clearly showed her dominance in the first set. In just 27 minutes, Azarenka took the first set from Osaka putting herself in the best position to take the US Open Women's Singles Title.
Even with these early challenges during the match, the 22 year old tennis star, quickly adjusted her mistakes to make the comeback. "I just start thinking point by point," she said during the U.S. Open post-match interview. Changing her mentality inspired her shifted momentum. "I wasn't really thinking about winning after a certain while. I just thought about, 'I came here with a goal, I'm playing in the final, a lot of people want to be in this final, so I can't lose 6-1, 6-0.'"
Her strategy paid off because against all odds Osaka achieved a historic 1-6, 6-3, 6-3 victory. Not only did she win her second US Open, but she became the first woman since Arantxa Sánchez-Vicario in 1994 to win the US Open after dropping the first set. 
Not only did Osaka solidify her status as an amazing tennis player on the court, but she continued to elevate her leadership role off the court as well.
Throughout the tournament she wore masks, each displaying the name of Black victims of racial injustice and police brutality. She wore each one for a different match. Supporting this cause for justice gave Osaka the motivation to defeat Azarenka in the US Open championship. 
With this historic comeback against Azarenka and her fight for racial justice, Osaka has made her mark as one of the most phenomenal tennis players in the world.
Image courtesy of Wikimedia Commons.
About the Writer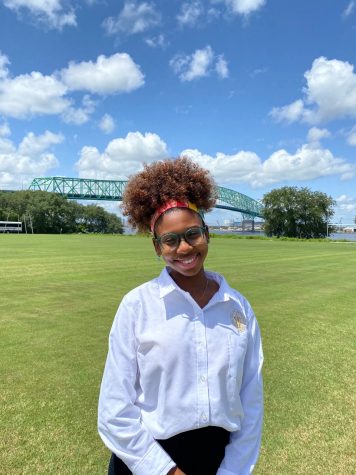 Chey Ann Boyd '21, Staff Writer
Chey Ann Boyd is a senior and first-year staffer for The Talon Times. She has always loved expressing her creativity through photography, but this student...