Florida State Basketball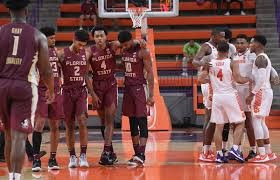 This has been a fabulous year for Florida State basketball, and the year Seminole fans needed after a very subpar football season. Florida State finished the regular basketball season at 16-6, and 11-4 in conference play.
This allowed us to go from being unranked at the beginning of the season, all the way up to #16 in the country. It was an amazing way to start the new legacy of Florida State basketball, with a young group, including future lottery pick Scottie Barnes. Barnes averaged 11 points, 4.3 rebounds and 4.2 assists per game this season, not being a starter.
After losing two of our best players to the lottery in the NBA draft, Patrick Williams (4th overall), and Devin Vassell (11th overall), Florida state was not supposed to be a contender even in the ACC this year but shocked many with all the new faces on the roster.
Having very high points in the year including a 21 point win over #7 Virginia, this showed Seminole fans how good we really are and that we could be legit contenders in the March Madness tournament once again.
The Seminoles finished the season 4-3, counting the ACC tournament runner up. This earned them a 4 seed in the March Madness tournament, with a matchup versus a 13 seed University of North Carolina Greensboro. Almost every single basketball analyst has Florida State to win this game, but it's not guaranteed.
This is the beauty of the NCAA tournament. Although almost no one has Florida State making the Final Four, I believe they have the potential to win it all, being in the hands of Leonard Hamilton, the 5th all-time winningest coach in ACC history and superstar freshman Barnes. Don't be surprised when this Florida State basketball makes a run in the tournament.
Image courtesy of TigerNet.com.