Hideki Matsuyama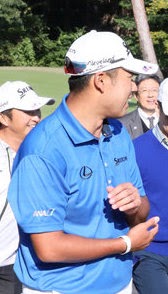 After a year-long wait, the Masters have finally come. This is the most profound golf tournament in the whole world, due to the beautiful gardening, gorgeous magnolia lane and the classic green jacket that every has dreamed about and longs for.
The reason why this tournament is so amazing is due to the fact that anyone can win it. Hideki Matsuyama proved that this year. Matsuyama came into the tournament not winning a tournament in 1,344 days, but little did he know he was about to not only break his streak but became the first Japanese male to ever win a major championship.
Matsuyama started off hot with an opening round of 69 (-3), but he didn't stop there. He went on to shoot 71 (-1) in round two, 65 (-7) in round three and 73 (+1) in round four to barely hold onto the lead at -10. Matsuyama played far from his best golf and still won the greatest tournament in all of golf.
The course was in very tough conditions this year that was on top of it being a very difficult course due to Dustin Johnson winning last year with a total score of  -20. Matsuyama is not one to be intimidated easily, and he went on to prove that by playing a smart, aggressive, consistent round of golf.
After his acceptance of the famous green jacket, Matsuyama went on to give a speech in which he said, "I hope this inspires my home land, If they set their mind to it they can do it." Matsuyama ended his speech without his translator saying, "thank you" and throwing both of his arms up in the air, basking in his glory.
Image courtesy of 内閣官房内閣広報室.