FSU Versus BC Football Game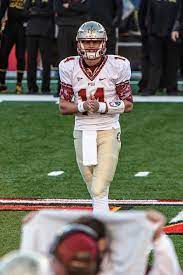 On Saturday night in Tallahassee, Florida, The Florida State Seminoles dominated the Boston College Eagles 44-14. Since 2015, this was the first time Florida State opened 4-0. At Doak S. Campbell Stadium, the game was sold out. It was also Parents' Weekend at Florida State, causing a lot of commotion from Noles fans. 
The Seminoles quarterback, Jordan Travis, completed 16 of 26 passes for a career high 321 yards and a touchdown. Whereas the Eagles quarterback, Phil Jurkovec, completed 15 of 23 passes with 105 yards.
Starting off the first quarter, Florida State received the kickoff. Running back Trey Benson, received the kick-off, running 93 yards for a Seminoles touchdown. The extra point was good, starting off the game 7-0, Seminoles. Boston College got the ball after the run Benson had for the Seminoles. On third down for the Eagles, Jurkovec threw behind his man and the ball was intercepted by cornerback Omarion Cooper. This gave the Seminoles the ball at the Boston College 34 yard line. 
Travis hit Cam McDonald over the middle for a gain of 32 yards to set up 1st and goal. Running back Lawrance Toafili went up the middle for a short touchdown. After two touchdowns in 2:08, Florida State led 14-0. By the end of this quarter the Seminoles were up 21-0.
Starting the second quarter, Florida State scored a field goal by Ryan Fitzgerald, connecting 30 yards out to make the score 24-0. Later on, Kentron Poiter caught a great throw for a touchdown, leaving the score going into halftime 31-0. 
After kickoff going into the third quarter, the Eagles begin the second half at their own 25. The ball making its way through the field, Jurkovec fell down at the Florida State 49 to bring up fourth down and the Eagles had to punt. The Eagles got into Seminole territory for the first time in the night. Plays after the punt, Treshaun Ward found an opening and cut up for 22 yards getting the Seminoles a touchdown to make the score 37-0.
With six minutes to go in the third, Boston College was back on offense. The Eagles had a first and 10 on FSU's 34. Jurkovec threw to Alex Broom for the first touchdown for the Eagles. 
During the fourth quarter, both teams each scored a touchdown, making the final score 44-14. Boston College cut into Florida State's advantage, but the Seminoles walked out with the record 4-0.
Image courtesy of Flickr.