Jaguars Versus Raiders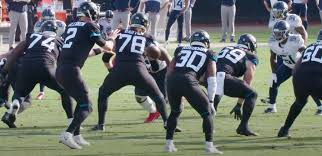 Last week, the Jacksonville Jaguars played the Las Vegas Raiders and came out on top with a score of 27-20. The Jaguars, unlike the previous seasons, have made some improvements. Two years ago, the Jags had a record of 1-1,5 which was a very sad and tough season for the Jaguars, but last season they did improve a little bit, but not as much with a record of 3-14. 
This season for the Jaguars, it has started out not that bad with a record of 3-7. When the Jaguars played the Raiders for pre-season, they lost to them 27-11, so we have been improving since pre-season.
The Jaguars in the first quarter of the game were down 7-0 and still down the second quarter 20-10. All of the Jaguars fans thought it was probably going to be another loss for the Jaguars. In the third quarter, the Jags were still down 20-17 but in the fourth quarter, the Jags made an epic comeback, scoring a big 10 points at the end and coming out on top with the final score of 27-20. 
Go Jags!
Image courtesy of Wikimedia Commons.