FSU Versus LSU Football Game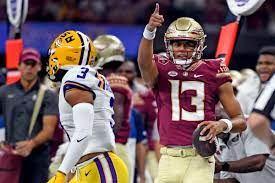 Sunday night, in New Orleans, Louisiana, the Florida State Seminoles took a 24-23 victory over the Louisiana State Tigers. These two teams played down to the actual last second; it was to be a very entertaining game for FSU and LSU fans alike.
The Tiger's defense was dominated by FSU's quarterback, Jordan Travis. This was one of the best games of his career. He completed 20 of 33 passes for 260 yards and two touchdowns to Onataria Wilson, top receiver. Travis converted 11 of 17 conversion attempts. 
LSU's starting quarterback, Jayden Daniels, completed 25 of 34 passes for 209 yards, with two touchdowns, and ran 16 times for 114 yards. Daniels was the leading rusher by 91 yards, meaning their offense needed some help. 
Choosing to receive the ball after winning the coin toss, LSU was forced to take a 36 yard field goal because the Seminoles defense dominated them.
In the first quarter, the Seminoles did not score, but the receivers were great at getting the ball moving when it was third down. Along with Camren McDonald's two conversions, Dennis Briggs and Kalen DeLoach had half sacks, helping the defense stay strong. The defense in this game played very well.
Going into the second quarter, the Tiger's had the lead 3-0, but before halftime, the Seminoles were up 7-3. FSU got a lead into the night with a 39-yard reverse touchdown pass to Ontaria Wilon. The first half of LSU's offense seemed to only depend on quarterback Jaiden Daiels who left receivers open. The Tiger's Malik Nabers, muffed a punt.
Kicking off the second half, both teams fought. FSU opened the half with a field goal. By the end of the third quarter, FSU was up 17-10.
Now the game got crazy. The Tigers and the Noles traded touchdowns 4 times (to make it 24-17). LSU finally came up with a 3rd down stop and looked to have a chance to go down and tie the game, but Nabers muffed his second punt of the game, which gave FSU the ball in Tiger territory. The Seminoles took the ball down to the one yard line where they fumbled and lost the football.
With 1:05 left and two timeouts, LSU had 99 yards to go to tie this game. The Tigers managed to get the ball down the field. Daniels found freshman Mason Taylor, but he was called out of bounds. The play was reviewed, and LSU was given the time for one last play.
With the last play on the clock, the line finally held up and Daniels found Jaray Jenkins for a touchdown. Damian Ramos kicked an extra point, but the Seminoles' very own Shyheim Brown deflected it, giving the win to FSU.
Image courtesy of tomahawknation.com.