2022 Miss USA Controversy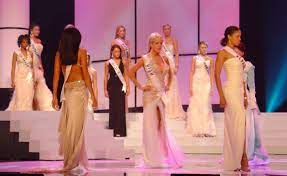 Miss USA 2022 was the 71st Miss USA pageant. The competition was October 3, at the Grand Sierra Resort in Reno, Nevada. The title winner was R'Bonney Gabriel of Texas, who made history as the first Filipina American to win. A handful of other Miss USA contestants allege that the organization gave her special treatment. The Miss Universe Organization ran the Miss USA competition until 2020, when The Miss Brand Corporation, headed by Crystle Stewart, took over.
As the 2022 pageant came to a close, first runner-up in the 2021 Miss Arkansas pageant, Jasmine Bruce, noticed the crowning and posted a series of videos on TikTok that showed contestants leaving the stage instead of congratulating the winner, something that's unusual for the competition. 
Soon after Bruce's video, some of Gabriel's fellow Miss USA contestants began voicing their concerns as well. Ashley Ehrhart, Miss Oklahoma 2022, said it was "not a shock" to see Gabriel win the title. Heather Lee O'Keefe, Miss Montana 2022, also believed that there was favoritism.
She said, "Gabriel was allowed to do different walking patterns on stage, when we were all told to strictly follow the walking pattern that we were given to by the choreographer. She broke that rule, and they let her do it. Her coaches were allowed to sit in on the rehearsals, and anyone whose coach was outside of the Miss Academy wasn't allowed to be there."
The contestants who spoke to NBC did not speculate about what they think were the motivations underlying the favoritism towards Gabriel or offer any reason for their suspicions. They pointed out instances of what was described as favoritism that they saw throughout the competition.
Gabriel disagreed with the statements of favoritism, saying her actions fell within the rules.
Erhart made sure to make it clear that it was not Gabriel's victory she is questioning, it was the process that led to the decision. O'Keefe agreed to make sure it was known that this was not a jab towards Gabriel; it was just wanted to be "made right for girls coming after." 
In January, Gabriel will represent the United States at the Miss Universe pageant.
Image courtesy of Wikimedia Commons.