Salons versus Barber Shops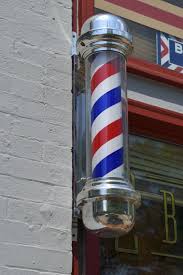 Most guys are prone to a normal haircut routine. Go to a barbershop, get your haircut as quickly as you can and go about the rest of your day.  This routine rarely includes the "pampering" that salons give their customers. Salons treat their customers by washing their hair, massaging their head and finally cutting their hair. After recently having a barbershop haircut, I wanted to compare the two experiences. 
In a barbershop, depending on the place, the wait is not too bad. It's around 10 to 15 minutes per haircut. Then, you get in the chair, which is a very comfy, get the cloak put around you, and they spray your hair with water and give it a cut. There's nothing too bad surrounding, but it does not have that  "WOW" factor. 
A salon, on the other hand, brings you to a special room, wash and massage your hair with water, dry it off, get in an EXTREMELY comfortable chair. Then they put the cloak around you, cut your hair and your hair comes smelling great because of the shampoo. 
Salons are great, but barbershops are much cheaper. They're are a lot more around the city, too, so guys default to easier-to-find barber shops. But everyone once in a while, a guy should get the full experience at a salon.
Image courtesy of Paul Brennan.