2022-23 Club Fair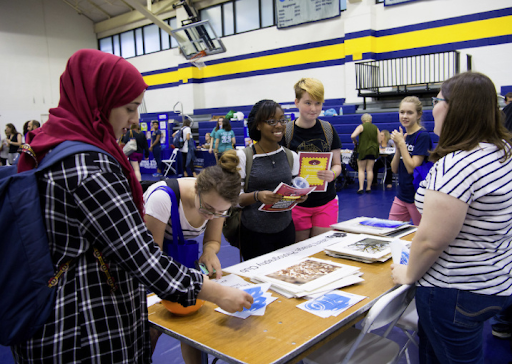 The 2022 Club Fair was an amazing turnout; the students of ESJ put out a wide variety of clubs ranging through language, fundraisers, athletic and personal hobbies. There were many new clubs, and many clubs that have been around for multiple years.
A non-profit club many are excited for this year is Ellie Club. The Ellie Club is a non-profit organization that raises money and awareness for DPIG (Diffuse Intrinsic Pontine Glioma), a rare type of brain cancer. The fundraisers this club is featuring this year are multiple bake sales, a charity golf event and a spikeball tournament. This club looks forward to raising awareness about this rare disease. 
A language club quite a few students are looking forward to this year is French Club. I'm personally looking forward to learning about French culture and being able to speak French. The reason I'm interested in this club is because I have traveled to Canada before and many people spoke fluent French. It was very interesting to hear the different languages. 
An athletic club a lot of students are excited for this year is the Spikeball Club. Spikeball is a four-person game that consists of two teams of two. If you have never played spikeball before, it is a fun, exhilarating game that can be played at the beach or in grass. This club is going to have spikeball tournaments, used for fundraising. 
A personal hobby club this year I'm excited for is Medical Club. This club is going to focus on bringing in doctors to teach the students different skills. This club is going to be super fun because we don't get to learn this information on a daily basis, and it is a special opportunity. 
Overall, all the clubs in the Club Fair are awesome in their own way, and it was super cool to see all of the variety.
Image courtesy of Webster University.