Women's Rowing V8
Hang on for a minute...we're trying to find some more stories you might like.
Working with the fastest boat in my career, as Varsity coxswain in my final season, has been exciting and inspiring.
ESJ's Women's team has always been good, rarely ever great, but good. With a relatively small program, the girls who are on the team really need to put in hard work in order to see the results.
From early in the season, Coach Mike Alton and I saw serious potential in the 2019 Varsity line-up, potential that the girls fully realized after our first neck and neck sprint alongside Capital City Rowing (very strong competition for ESJ girls).
After our narrow victory, our lineup resolved to do everything in its power to get stronger and faster starting right there.
We sat down for lunch and discussed everything from nutrition to sleep to extra exercise. As we stuffed our faces with chips and queso, we firmly stated that we were all in this together and that we do it all or nothing.
As a boat, we have given up sweets and fatty foods for Lent, to give us a more long-term goal, as well as creating a group chat where we share pictures of our meals as a fun way of keeping each other accountable.
In addition to rowing practice and mornings in the weight room, the boat has been taking a quick 1.6 mile jog after practice in the evenings, blasting music and chatting along the way. This addition to our workout is meant to improve our cardio, which helps both on the rowing machine and in racing, to be able to have more energy in the final 500 meter stretch.
I am so proud of my team, the determination and care for our progress has been equally shared by every single one of us,this inspires me beyond anything else.
What is so respectable about this pact between the nine of us is that we didn't just allow ourselves to fall into the same pattern as every year. The team is embodying the idea that "if it doesn't challenge you, it won't change you". And none of these small changes has been made without purpose; every single initiative has a long-term benefit that will give us an edge at States.
I'm beyond excited to see how this hard work pays off, and I've never been more proud to work with a group of such strong and happy young women.
Image courtesy of ESJ's Flickr.
About the Writer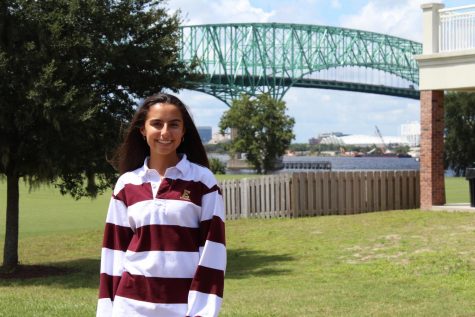 Inés Eisenhour '19, Staff Writer
Inés is a senior who has attended ESJ since sixth grade and this is her second year on The Talon Times staff. Her focus is on human-interest stories and...