2021 Spring Band Concert
The 2021 Spring Band Concert was better than ever this year! This year's concert was filled with combined group ensembles, chamber music and Upper and Middle School pieces. Mr. Greg Hersey, who is the director of instrumental music at Episcopal, did a great job orchestrating the band concert this year, making us able to have our concert inside this year, contrary to last year's Winter Concert. Here's a rundown of how things went.
Middle School was up first and they put on a great show. Middle School is one of the more impressive groups in my opinion because of their hard work and dedication. For some of these kids, this was their first year ever playing an instrument, and that's pretty cool. Their setlist consisted of three songs which ranged from songs starring the trumpets to songs from Pirates of the Caribbean. Overall the Middle School band was very impressive this year.
Next up was Upper School Wind Ensemble and Honors Wind ensemble. These groups have been working hard all year to learn pieces like "Mars" by Gustav Holst, to "Street Fighter Mas" by Kamasi Washington. The Upper School and Honors band really had fun with all of the pieces that were picked out this year, and it was a great opportunity to play this year.
Lastly, we had our chamber pieces. The chamber pieces were my favorite part of the concert because of the varying voices that were showcased. There was a percussion ensemble, followed by a Brass quartet and a Woodwind duet, along with many more pieces.
The 2021 Band concert was a hit this year, and everyone involved was so glad that things went smoothly. I'd like to honor our seniors Zach Vonz, Grant Himes, Philip N and Nick Garcia, for contributing great things to our band over the past few years. As well as a thanks to Mr. Hersey for fighting for a concert this year.
Image courtesy of Ashlin Roberts '22.
About the Writer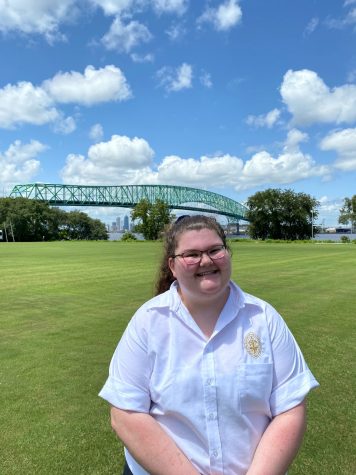 Ashlin Roberts '22, Staff Writer
Ashlin Roberts is a junior and first-year staffer for The Talon Times. She is heavily involved with Fine Arts at Episcopal, being fully committed to Honors...