ESJ Dance Concert Review: Overflow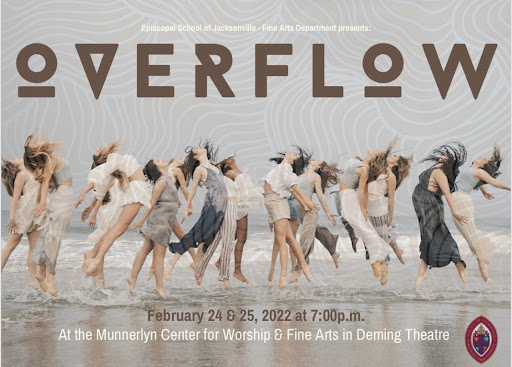 Episcopal recently hosted their annual spring dance concert… Overflow, which was the title of the concert, comes from the Fine Arts theme "Deeply Rooted" for this year. The dance concert was a combination of groups from actual dance classes during school and for students who participate in dance after school. 
The first act of the concert had a steady lineup of many different types of dances, ranging from contemporary, hip hop and a phenomenal piece that was choreographed to a mashup of songs by Queen. Although the Queen mashup was an all-time favorite of mine, I think my favorite piece was the opening number called "Stomp" which involved all the dance ensembles on stage, using drumsticks, trash cans and different types of metal objects to play while they were dancing on stage. This opener was an absolute surprise to me and it definitely made me excited to watch the rest of the show.
Another interesting piece worth mentioning was called "08:20 " which was choreographed by Emily Gray which was her final thesis. This dance showed dancers holding lights, turning them on and off throughout different parts of the piece. Not only did the super talented ESJ dancers perform incredibly well during this difficult piece; Greg Hersey, who is the director of instrumental music also performed during the piece by playing an abstract arrangement of instruments throughout a certain section of the performance. 
The second act was the most memorable to me. The beginning of act two started with a musical piece from Wicked, which gave the audience a taste of singing and of course dancing. The shining star of act two was the honoring of the seniors and the senior piece. For a moment of the show, audio recordings from younger members of the whole ensemble talked about the many ways they love, look up to and will miss the seniors when they graduate. I'm almost positive that there wasn't a dry eye in the theater after this unique moment.
For the cherry on top of it all, the senior piece was beautiful. The performance included all of the seniors having a special part in the piece, dressed in beautiful cream-colored outfits. This was my favorite piece of the whole entire show.
I also took the time to interview senior dancer Maddie Runnels and ask her what her favorite piece was… She shared the following:
"The senior piece, "In Case", and "500 Days of Summer" meant a lot to me because they held a lot of emotion. On the other hand "Up" was one of my favorites to perform because of how much fun it was. I wasn't in "Huapango", but it was my favorite to watch because of how beautiful it was. Overall, I loved every second of the dance concert, and so it's very hard to pick a favorite!"
Image courtesy of @esjdance / Instagram.