Faculty Spotlight: Mr. Kip Collins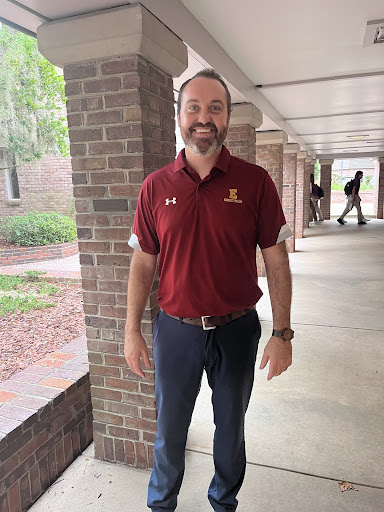 This week I interviewed Mr. Kip Collins on his sermon that he did in Chapel last week. This is how Mr. Collins prepares and how he ultimately feels about his sermon.
What do you do before you give a sermon to avoid becoming nervous on stage?
I pray for the confidence and peace to share God's word. I was so nervous that I had to go to the side stage during Chapel and get down on my knees in prayer!
What made you want to give last week's sermon?
The Holy Spirit put it on my heart to share with you all that our past mistakes and failures do not define us. If anything, they make us stronger!"
You mention second chances in your sermon. Why do you believe that God should give everyone a second chance, even if they make a lot of mistakes?
It is in Jesus' sacrifice that we are given second chances. When He died for us, He conquered sin (mistakes, separation from God) once and for all.
What is your advice for recovering from a large mistake?
To truly repent by asking Jesus Christ to forgive you for your mistakes. When you know Jesus, you understand that His love for you outweighs your mistakes. One of my mentors once told me, "You can't sin your way out of the Kingdom of God." He was basically telling me that you should always do your best to be more Christ-like, but when you blow it, you are still loved and you are still His child.
Are you ever worried that God won't forgive you for a mistake you made?
Satan tries to convince me that this is true, but Jesus reminds me He is a lot more powerful than that jerk."
What would you like to give your next sermon on, if you are asked again?
It would be fun to give a sermon on a student's idea!
Image courtesy of Addison Nunley '23.