Ellie Reed '21 Interview
This week I had the pleasure of interviewing one of my favorite people on campus, Ellie Reed '21. She is very passionate about fashion and art, and she is always unapologetically herself.
What are some of your favorite hobbies?
I'm a naturally very curious person so I often find myself searching for new hobbies or ways to express creativity or gain inspiration! Right now some of my favorite hobbies include knitting mini purses, reading books, reading articles, reading magazines, exploring the depths of Spotify for new music, and even painting and designing my own nails. Even though it's difficult at times, I've been trying to learn and experiment without the dependence of my phone, and it's been nothing but eye-opening and incredibly inspirational for both my art making process and myself personally.
How are you so fashionable without breaking the bank?
First of all, thank you! The fashion industry is unfortunately such a huge contributor to classism surrounding clothing and image. There is a very strong "I have these expensive items therefore I am better than you" mentality that many people have towards clothing which promotes exclusivity, and is so hypocritical to what fashion is meant to be used for– experimentation and expression. Sure, investing in quality items is wonderful and encouraged, but spending your savings to buy a cliché Gucci printed tee just for the sake of it being Gucci is so frustrating! My biggest piece of advice: Do not spend what you don't have! Money does not equal style! I'm a high school student in an internship, while running an online store, so I don't have much money to spend anyway. I exclusively shop second hand, so I'm able to save a lot of money, find hidden gems that no one else owns and contribute to an ethical method of shopping for the betterment of the environment! I also run a pretty active Depop shop where I sell my clothes in order to buy new clothes and contribute to a second-hand community!
What is something that you are passionate about besides fashion or art?
I have about three functioning brain cells which include fashion, art and activism. I'm an aspiring human rights and environmental activist, and I think everyone should be, too! Human and environmental rights impact us and our peers on a daily basis in ways we often don't notice. I feel silly wanting to pursue a career in art or fashion in comparison to activism because at the end of the day fashion is a luxury but not a necessity! I often incorporate activism into my artwork and designs in order to amplify a message and spread awareness through a creative medium we all work with on a daily basis! I'm also extremely concerned with the state of our environment and the future of its well-being, so I'm constantly trying to find ways to become more sustainable. I exclusively shop second hand, try not to consume plastic or disposable materials and reduce my carbon footprint in other ways. It's difficult to get used to but extremely rewarding!
Where do you want to live when you grow up?
The most cliché answer you can imagine: New York City. I know, I know, it's the basic fashion-kid response, but it truly is my favorite place in the world. I'm in love with the diversity, creativity, acceptance, rawness and liveliness that breezes through those streets. Every opportunity that I'm able to travel, I spend all of my savings visiting the city. Even though it's not as dreamy as it appears to be, the grit and heart of the city is insanely inspiring, and I can't wait to develop my story there. I would also LOVE to live in an organic, futuristic home in the south of France. Pierre Cardin's "Palais Bulles" home in France is my dream home. It's breathtaking. France is such a beautiful country and culture that I would love to explore more later on in life! Finger's crossed.
Why did you create the ESJ Fashion Club, at Episcopal?
Fashion Club has brought so much joy into my life, and I'm so proud of my team and I for its successful response from our student body! As I mentioned earlier, fashion is about experimentation and expression, and that's a very difficult thing to tap into when you have uniforms and a strict dress code, so Fashion Club was born to share creative outfit ideas, document ever changing trends and teach students about the industry! We just hope people can feel more comfortable and confident when it comes to self expression and learn a few things along the way!
Image courtesy of Ellie Reed '21.
About the Writer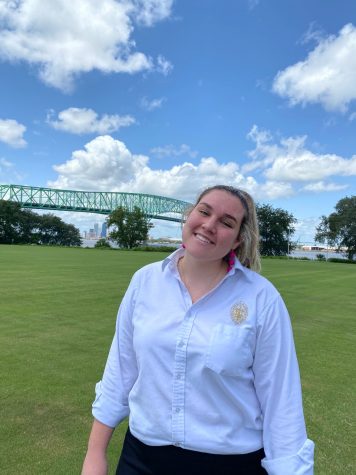 Maddy Carroll '22, Editor-In-Chief
Maddy Carroll is a junior and one of the Editor-In-Chiefs of The Talon Times. Maddy loves to travel and immerse herself in different cultures. She is a...